In a shocking move, Whatsapp is finally cracking down on unofficial versions of the app. The company has announced it will temporarily ban all accounts using third party versions of the app. The ban importantly targets users of apps like GBWhatsapp and Whatsapp plus.
#gen Complying to users and platform #security concerns, #Facebook-owned messaging app #WhatsApp is banning accounts of users who have been using modified versions of the app like WhatsApp Plus and GB WhatsApp. pic.twitter.com/cPajBj3zfj

— Global Express News (@GlobExpressNews) March 12, 2019
According to the Facebook-owned platform, these apps are altered and unsupported versions of its instant messaging service. On one hand, Whatsapp disclosed that the use of these apps violates its terms of service.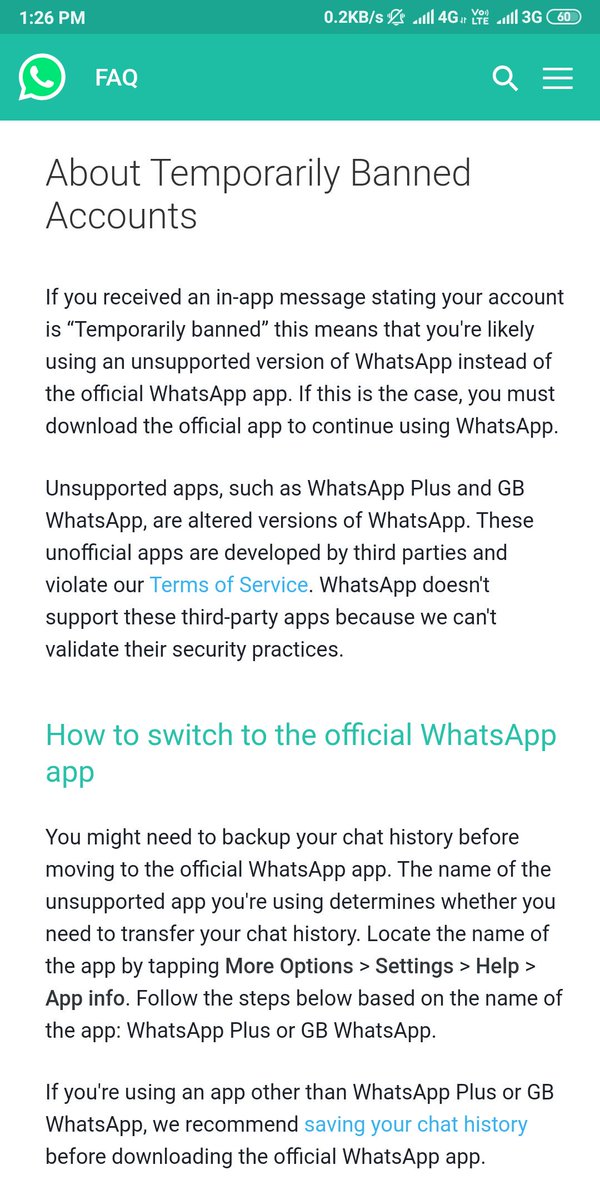 On the other hand, the platform emphasized that it couldn't guarantee the safety of users on these third party apps. According to a post on its website, "WhatsApp doesn't support these third-party apps because we can't validate their security practices."
WhatsApp issues a warning against the continued use of clone apps like WhatsApp Plus and GB WhatsApp, citing security concerns as the primary reason. The Facebook-owned app will ban user accounts created in those clone platforms. Are… https://t.co/SV4CcYjoln

— MT4T (@mt4tproject) March 11, 2019
Users of these third party apps should therefore expect in-app messages informing them they've been "temporarily banned."
To lift the ban, users are advised to switch back to the official and supported Whatsapp version. Users of these third party apps have also been asked to backup their chats and Whatsapp has provided detailed explanation for GBWhatsapp and Whatsapp Plus users on how to go about it.
Nevertheless, it's not clear whether Whatsapp has already started banning users of these third party apps. When it does, we expect the disruption to be huge.
GBWhatsapp and Whatsapp Plus are two of the biggest and most used alternative apps for Whatsapp.
According to XDA developers, these apps help to unlock "some additional Whatsapp features that improve the user experience."
For instance, these apps are highly customizable and they also carry way more privacy features than the regular Whatsapp app. With GBWhatsapp, users can go completely anonymous. They can hide their online status completely and even view other users' Whatsapp Statuses without them knowing.
However, as said earlier, nobody knows how secure these apps are. Plus, they don't exist on the app stores, which also adds an extra layer of suspicion.
In a world where users are highly concerned about data privacy, GBWhatsapp and Whatsapp Plus could very much be spying on users and monetizing user data in different malicious ways. There's no way to tell of course, but safety first.
Get the best of Africa's daily tech to your inbox – first thing every morning.
Join the community now!