The UK's Enhancing Financial Innovation & Access (EFInA) held a very important financial services conference today. The event titled 'Powering Financial Inclusion Through Fintech' held at the popular ZoneTech park in Gbagada, Lagos. 
Bringing together some of the biggest players in the fintech industry, the event focused on the ebbing issues surrounding financial inclusion and what can be done to improve it.
Now, financial inclusion is a huge deal in today's world. According to some statistics, over 36% of Nigeria's population has no access to basic financial services. And millions of Nigerians with banking services are rather underserved, getting access to less financial services offerings than they should.
At the EFInA conference, these issues were expanded upon and solutions were discussed.
CEO,@EFInA_Nigeria ,Esaie Diei, presents EFina's Fintech objectives and key things to look out for during the course of the event.#EfinaFintechGrant pic.twitter.com/LFAkwqfhr9

— TechCabal 👨🏾‍🚀 (@TechCabal) April 18, 2019
The event kicked off with the opening remarks by Chidi Uguru, head of partnerships at Big Cabal Media. EFInA CEO, Esaie Diei followed up with the keynote speech. He provided a brief overview of the organisation's fintech objectives and important highlights for the day's event.
Stephen Ambore, head of Digital Financial Services at the CBN spoke soon after, highlighting the role of the banking regulator in improving financial inclusion. According to him, the CBN has done quite a lot to deepen financial penetration.
"There's a commitment from the CBN to increase the number of financially included people from 48% to 83% by 2020," he said.
But he notes that the regulatory environment is not yet perfect for fintechs to thrive fully. He noted that there's a need for the CBN, as well as other regulators, to "sit with fintechs" in order to develop the requisite environment to propel financial inclusion.
"One of the things that will drive Fintech in Nigeria is to start thinking about how to create training centers at university level." #EFinAFintechGrant

— TechCabal 👨🏾‍🚀 (@TechCabal) April 18, 2019
"Appropriate regulation, access to funding, corporate governance limitations are some of the other areas where targeted efforts will help move the Fintech ecosystem in Nigeria forward."#EFinAFintechGrant

— TechCabal 👨🏾‍🚀 (@TechCabal) April 18, 2019
The event soon progressed to a Q&A session chaired by no other than the founder of Microtraction, Yele Badamosi whose firm has more fintechs under its portfolio than any other venture firm in the country. He was joined by other panelists which included Dayo Ademola, head of innovation at EFInA.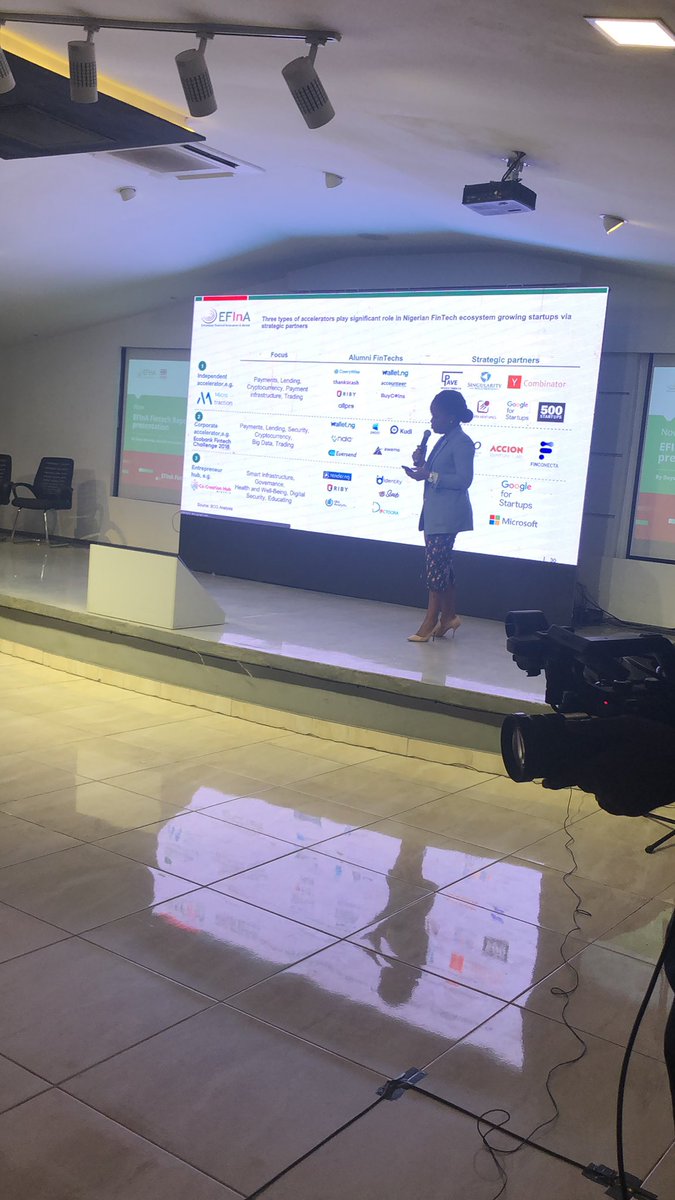 Dayo Ademola provided an interesting walkthrough about the Nigerian fintech landscape, their business concerns and the strategic partners helping them attain their objectives.
Dayo Koleowo, a partner at Microtration took to the stage afterwards. His speech focused on the identity management issues in the country. He suggested there was a need to provide a unified identity system necessary to support the growth of fintechs.
But it wasn't all talk though. The EFInA fintech conference gave grants to a few fintechs for displaying impressive "quality & creativity" with their products. Startups like Social Lender, Riby Finance, and Capricorn Digital collectively won a $2 million grant under the growth stage category.
While CredPal, Extramile Africa and SmartTeller collectively won another $2 million grant under the startup category.
According to EFInA, these companies have built and are working to grow solutions to improve financial inclusion among low-income earners in Nigeria.
Get the best of Africa's daily tech to your inbox – first thing every morning.
Join the community now!