Reach Robotics, the UK based robotics company founded by British-Nigerian, Adekunle Silas, has announced the shutdown of its robotics business. The announcement was made by Adekunle on LinkedIn.
Founded in 2013 by Adekunle Silas, together with John Rees (COO) and Chris Beck (CTO), the startup makes MekaMon – a four-legged spider-like robot that is controlled with just a smartphone app.
MekaMon is said to be the world's first gaming robot and also supports augmented reality gaming features that turn that harmless-looking robot into a gun-slinging beast.
But MekaMon is about to become extinct as the startup shuts down its robotics business. In the LinkedIn post titled "Reach Robotics – End of the Road," Adekunle noted that he is happy with what the startup has been able to achieve in bringing MekaMon to life.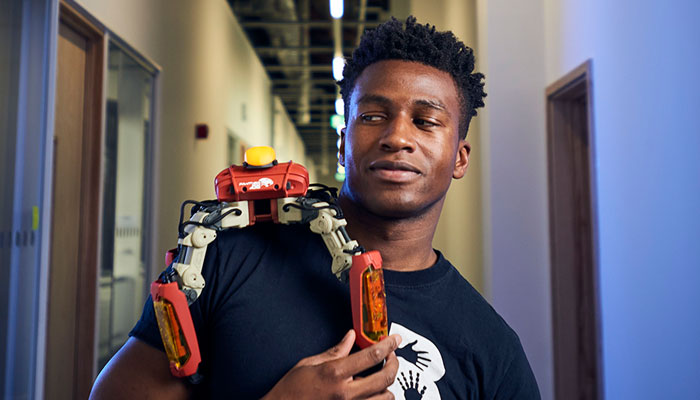 We took MekaMon from prototype to market, introduce the world to the first gaming robot with seamless AR integration, launched in dozens of territories and developed a unique education offering that will live on through many initiatives.

Adekunle Silas wrote.
This brings an end to the promising startup who came into prominence upon signing a major sales deal with Apple in 2017. This partnership deal according to some reports, made Adekunle the world's highest-paid robotics engineer.
What Led to The Shutdown?
In his post, Adekunle noted that the "consumer robotics sector is an inherently challenging space – especially for a start-up." And consumer robotics startups have been able to pull through so far thanks to their passion and ingenuity.
In July, The Times reported that the startup has gone cash-strapped. The report noted that Reach Robotics was under pressure from a creditor, and was looking for investment or a sale to avoid its collapse. Since inception, the startup has raised $7.8m from about 8 rounds, but there's no data to show if the startup made profits from sales of these fighting robots.
Soon after the report, the startup filed for administration and laid off several workers bringing its staff strength to 17. This filing was said to be a bid to buy the company time, "a necessity when dealing with the illiquid stock of its 'MekaMon' robots."
"Sometimes you file to give yourself just enough time to settle creditors so you're not forced into liquidation where the assets then become at risk," Adekunle told BusinessCloud.
The report also added that Reach Robotics was in discussions for acquisition. This is to help it pivot from consumer-facing robotics to one with education at its core.
Adekunle wrote that the journey will continue in the "non-consumer Robotics sector and the STEAM Education sector."
This points to ReachEdu, the firm's education arm which includes the 'ReachEdu' app that helps to teach robotics and coding education to children. Already, a pilot of the new education arm is said to have launched in UK schools, with plans to expand into more countries.

Get the best of Africa's daily tech to your inbox – first thing every morning.
Join the community now!