Google has launched its own app subscription service for Android devices, Google Play Pass. The service allows people access to a premium library of over 350 games and other apps on Google's Play Store.
The available apps in the library are unlocked, and free from additional fees, in-app purchases, or advertisements. All these for a monthly subscription service of N1,800 ($4.99).
This is a similar offering to Apple's game subscription service, Apple Arcade. But unlike Arcade, Google is offering more than just games as it's also bundling other health, fitness and photography apps. That includes photo retouching, weather and camera apps.
Some of the games available in Play Pass are Monument Valley, Risk, Star Wars: Knights of the Old Republic, and Terraria.
These will be listed in a new Play Pass tab that's available for subscribers on the Google Play Store. The tab contains featured apps and recommendations that have been curated for the service. Users can still find the Play Pass apps and games on Play Store itself, but the Play Pass apps will be distinguished with a ticket. And such apps are already unlocked with the user's subscription.
Google also promises that there will be new additions every month, with apps like This War of Mine and Cytus, mentioned.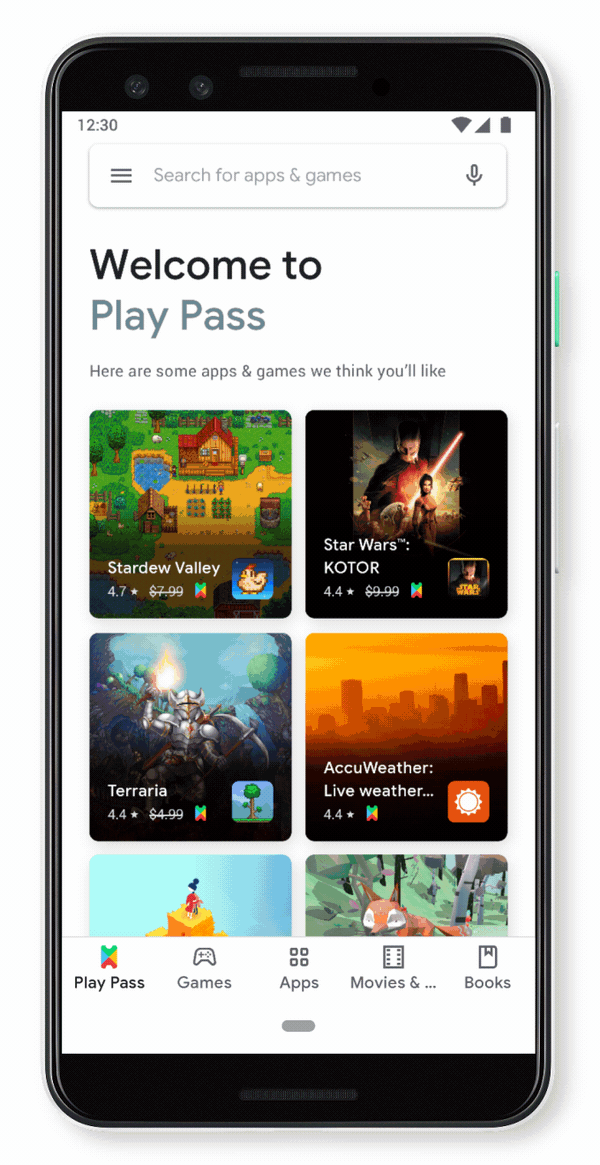 Users can also share their Play Pass subscription with up to five other family members. Each family member can access Play Pass individually, and their experience won't be affected by what others download.
This Play Pass launch comes as Google is making a push into gaming, with the expected release of its Stadia platform – a service that lets people stream games from the cloud instead of playing them on a console, in November.
Google Play Pass service will be rolled out this week. A 10-day free trial is available after which Google is offering a promo price of $1.99 per month for the first 12 months. After this promotion ends, users will begin to pay the full fee of $4.99 per month.
Get the best of Africa's daily tech to your inbox – first thing every morning.
Join the community now!