Events and occasions have become a common part of life especially in cities like Lagos. From weddings, house-warming and birthdays to hangouts, concerts, conferences, we have all been to one or several of them.
When an event turn out pretty nice and enjoyable, we commend the organizers for a job well done. However, when it goes south, we will never hear the end of it as it will quickly become an of how not to plan an event.
Either ways, planning an event, no matter how small, can be a very tedious task. Behind the glamour and 'owambe', lots of efforts go into pulling events together.
From trying to get the right vendors, location, making the necessary payments, sending out invites, etc – lots of planning and execution have to take place for the event to happen. And these plans require time, effort, and most importantly, money. Which is why most times, people seek professional help when doing so.
However, with many sectors already being disrupted by technology, it's only inevitable that a startup will seek to venture into the $20 billion Nigerian events space.
Enter Planit, a startup that wants to make planning events easier for you either as a novice event planner or pro.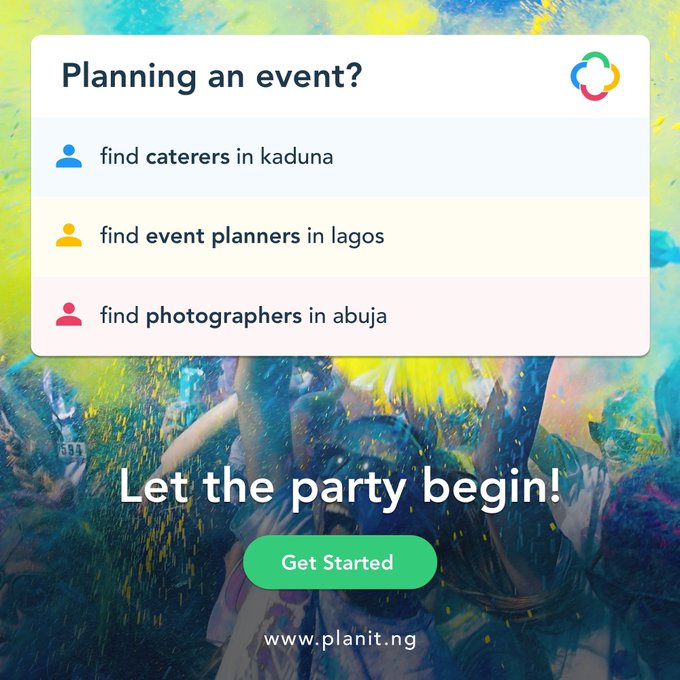 Launched in June 2018, Planit is a solution that eases the stress that comes with planning an event or looking for event vendors. Planit was founded by Nkenu Timothy and Ugochukuwu Nneji (who came on board as co-founder in 2019).
Nkenu told Technext that Planit hopes to digitise and ease the process of planning events as much as possible.
"Personally, I've seen a lot of events planned around me (from weddings in the family to friends' birthdays and more) showed how stressful the either process can be," said Nkenu who started toying with the idea in 2015.
Nkenu then reached out to Ugochukwu (who now doubles as the CTO and co-founder) in 2017, after which the pair were able to launch the platform in 2018.
Now Planit wants to address the stress of planning events by people with professional service providers. The main platform, Planit.ng, does this by allowing users search for vendors across multiple categories throughout Nigeria.
Once done, clients proceed to pick a vendor that meets their requirements, after which clients are connected with the chosen vendor.
But beyond allowing users just search, Planit also runs a concierge service, Planit Pro, where it takes the entire stress off the client and helps them plan the entire event. By doing this, users can sit back and relax as Planit does all the 'running' around.
Planit also has a discounted services feature, Planit Deals; a venue booking feature as a result of its partnership with RentYourHall; and an event cost aggregator.
At inception, Planit sourced its vendors from targeted ads. Now the platform gets its vendors organically and from social media, which indicates growth for the platform.
"A lot of the verification [sic] is manual. However, given the hyper targeted nature of the ads that saw us sign up the most vendors, we're able to vouch for at least 96% of the vendors on the platform."

Nkenu Timothy.
Currently, Planit has over 6,300 vendors and about 2,100 connections have been made between vendors and clients.
As regards revenue, the startup operates a commission-based revenue model. It also receives service fees and commissions from its concierge service as well as from the deals made for RentYourHall venues on its platform.
But it has not been all rosy. Nkenu admits that although the startup is bootstrapped, it is however starting to deal with the issue of inadequate funding as its becoming quite difficult to acquire talents without it.
Which is why this year, Planit is working on selling the Pro service more aggressively. It is also working on a P.A.Y.G. model for premium vendor subscriptions. These developments has seen the startup grow its team significantly to drive its sales and marketing and get more clients on board.
"Now that we've figured more things out better, we're focusing on sales (revenue) better from this quarter. We've been mostly pre-revenue, but that is changing from this quarter as we're looking to sell the Pro service more aggressively," Nkenu said.
Moving forward, Nkenu sees his startup offering beyond venues, and vendor services as it will be covering all aspects involved in planning events.
"So, whether you just need a DJ for a Twitter Hangout or you need a ticketing tool to sell tickets for your events, or you just need an event planning/management tool to keep all your processes in one place (budgeting, logistics, payments, vendors, etc.)," Planit wants to be your go to place.
Get the best of Africa's daily tech to your inbox – first thing every morning.
Join the community now!