Hi guys, trust you had a great weekend. There are a number of interesting events you can attend across the African tech space this week. Most industry events are still billed to hold virtually owing to the reducing number COVID-19 infection but some will hold physically.
To help you navigate your choice, we have curated a list of some of the major tech events holding this week for your consideration. The events listed below come up between October 12 – 17, 2020.
Let us go there!
Tech Inclusion 2020
Tnis week, Change Catalyst wll be hosting the 6th Annual Tech Inclusion Conference & Career Fair. The event will explore and develop innovative solutions to tech diversity and inclusion.
There will also be global discussion about the changes happening in the tech industry and what actions are needed today. And also strategize on how we can create equity in the tech industry.
Other focus points include exploring ways to build more ethical and accessible products and services, improve mental health and wellness, and use tech to drive civic engagement and combat voter suppression.
Date: Tuesday, October 13 – Thursday, October 15, 2020
Time: 5:00 PM
You can get tickets for the event here.
Suggested read: 'We Want Executive Order'- Nigerians Reject SARS Disbandment in Renewed Social Media Campaign
Digitisation for Job Creation
On Thursday, Youth at Heart will be hosting a webinar to discuss how digitalisation can lead to better jobs for young people in Africa.
At the webinar, industry experts and young professionals will have conversations about the intricacies of digitisation and how it can provide jobs.
Kindly find below the details:
Date: Thursday, October 15, 2020
Time: 1:30 PM
You can join the webinar using this link.
DisrupTECH
This week, the Richard P. Feynman Center will be hosting the 6th Annual DisrupTECH Virtual Event for Innovation created at Los Alamos National Laboratory and the New Mexico Start-Up Factory.
During the event, shortlisted innovators and entrepreneurs will present their groundbreaking ideas to entrepreneurs, investors, regional leaders, policy makers and industrial stakeholders.
The event will have in attendance Eric Davis – Acoustic multiphase flow sensor, Ben Karmiol – Corrosion and Biofouling Solutions among others
Date: Thursday, October 15, 2020
Time: 9:00 PM
You can join the event using this link
Suggested read: Thrive Agric Appoints Adia Sowho as Interim CEO Amid Accusations of Unpaid Returns
Design Sprint
On Thursday, IE Business School will be hosting a virtual Design Sprint to develop tech and non-tech ideas. The sprint consist of a 5 step process that channels the creative and business objectives into quick results.
In the workshop, attendees will go through the sprint process in a condensed format to get a 'taste' of how it works. And also a common business vision to step by step develop solutions and prototypes.
The process ends with consumer testing and getting feedback to decide whether the product/idea/ business can generate enough tracción and return.
Date: Thursday, October 15, 2020
Time: 4:00 PM
You can register for the session here.
44th Annual NIFST Conference
This week, 44th Annual Nigerian Institute of Food Science and Technology (NIFST) Conference will hold in Lagos. This will be the largest gathering of stakeholders in Nigeria food industry hosting many dignitaries and expects across the food and technology space.
During the conference, several technical and special sessions to guide all actors, farmers, processors, consumers and other stakeholders through the tech-know-how of creating wealth through agro-processing for nutrition and food security in this challenging times and beyond.
The Nigerian Institute of Food Science and Technology (NIFST) is the Professional Body of Food Scientists and Technologists and Allied Professionals in Nigeria.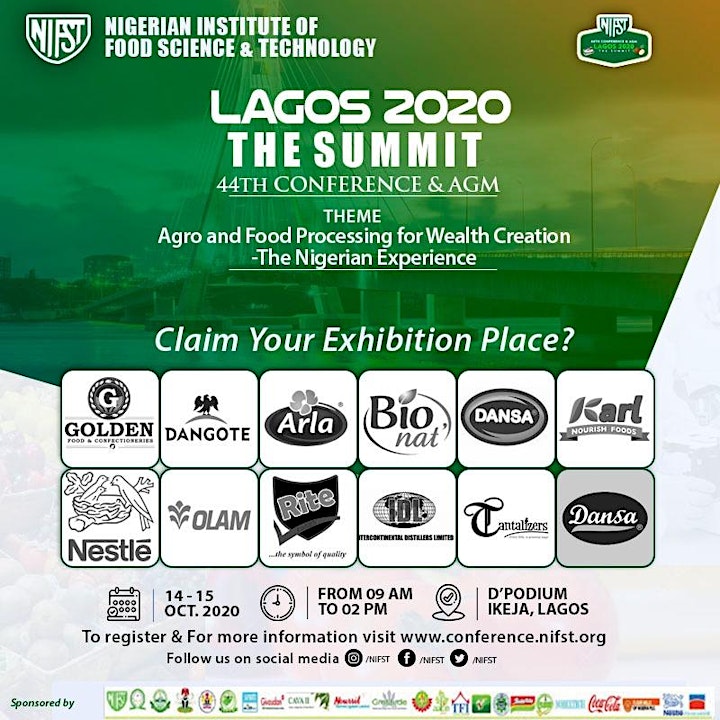 There will also product exhibition of the latest innovation in the sector and NIFST Conference Exhibition arcade for businesses to showcase their products to participants.
Date: Wednesday, October 14 – Thursday, October 15, 2020
Time: 9:00 AM
Location: D'Podium International Event Centre, 31B Aromire Avenue, Off Adeniyi Jones, Ikeja, Lagos.
you can get tickets for the event here.
That is all from here guys. We will be sharing some exciting updates next week. Have a great week ahead!
Get the best of Africa's daily tech to your inbox – first thing every morning.
Join the community now!