A number of tech companies have actively supported the #ENDSARS campaign since the commencement of full-blown nationwide protests last week. Some of these companies have raised funds and produced passionate social media content to further the #EndSARS campaign across social media.
The #EndSARS campaign which had begun in 2016 was restarted this month after a video emerged online showing a Bolt rider being assaulted by SARS operatives. The campaign then gained more momentum when another video clip online showed a man reportedly killed by SARS officers.
The ongoing campaign against Police brutality has brought about a dissolution of the Special Anti-Robbery Squad (SARS) by the Inspector General of Police IGP Muhammed Adamu.
Suggested read: 'We Want Executive Order'- Nigerians Reject SARS Disbandment in Renewed Social Media Campaign
However, Nigerians have rejected the IGP's disbandment and continued protests this week to demand that an executive order on SARS dissolution is issued by President Muhammadu Buhari.
As a tribute to these companies, I have chronicled their efforts for reference:
Funding and Crowdfunding
Flutterwave
Flutterwave is an API fintech that allows businesses to receive payments from customers worldwide.
Led by CEO Olugbenga Agboola, Flutterwave staff set up an internal fundraising project which amassed N2 million to be used for settling medical bills for those injured in #EndSARS protests.
After raising N2 million, Flutterwave opened up the fund to the general public. The fund has generated over N12 million so far.
According to Feyikemi, N3 million has been donated to Joy Eze and Jimoh Ishiaq's family while part of the money has been disbursed to Abuja and Portharcout #EndSARS protests.
Paystack
Nigerian fintech startup, Paystack donated N1 million to the Flutterwave Women's Coalition fund to provide food, water, first aid kits and other necessities to #EndSARS protesters.
Bamboo
Bamboo is a digital investment platform that offers Nigerians access to more than 3,000 stocks listed on the Nigerian and US stock exchanges.
The startup has come out to back the #EndSARS campaign, stating via a pinned tweet that it stands against all forms of Police brutality in Nigeria.
Softcom
The software company, Softcom together with its subsidiary fintech Eyowo, also donated N1 million to the Flutterwave Women's Coalition fund to settle medical and legal needs for #EndSARS protesters.
Bundle Africa
Cash/Crypto social payments company, Bundle Africa has contributed 2,145 BUSD (dollar-based Stable coins) worth N1 million to both the #EndSARS Flutterwave Staff fund and Women's Coalition fund.
Bundle Africa CEO, Yele Badamosi also announced a personal contribution of N500,000.
BuyCoins
Buycoins is a crypto startup that allows users to buy and sell Bitcoin, Ethereum, Litecoin and USD Coin in Nigeria.
The startup donated N500,000 to the Flutterwave fund set up to provide medical assistance to injured #EndSARS protesters.
The company has also called on the Nigerian government to #EndSARS and end police brutality in the country.
Eden
Tech-enabled concierge service, Eden has donated N500,000 to the #EndSARS Flutterwave Staff fund.
The company stated that the voices of the people must be heard in the fight against Police brutality.
Others
Cross border payments platform, Fliqpay as well as crypto platform Quidax and data science company Voyance have each contributed N500,000 to the #EndSARS campaign.
Social Media Campaign
GIG Mobility
Technology-driven transport company, GIGM has shown its support for the #EndSARS movement. GIGM is currently operating across states in Nigeria and West Africa.
The company shared a passionate video on twitter that chronicled the pain of many Nigerians over time and encouraged the people of Nigeria to stand firm. The video has been reshared across social media platforms since.
The video highlighted the names of some Nigerians who have lost their lives to Police brutality.
This included 16-year-old Tina Ezekwe and Nigerian footballer Tiamiyu Kazeem both killed by rogue Policemen earlier this year. Most recently, Jimoh Isiaq was reportedly murdered by SARS officers during #EndSARS protests in Ogbomoso.
PiggyVest
PiggyVest is a fintech startup that enables users to save and invest money through its app.
The savings platform posted a tweet with an image of three raised clenched fists to express its backing for the #EndSARS protests.
PiggyVest also changed its avatar to the same image which has been largely adopted by social media users for capturing the essence of the #EndSARS campaign.
PiggyVest COO, Odunayo Eweniyi has repeatedly tweeted in support of the #EndSARS movement. She coordinates the Flutterwave fund along with Gbenga.
Like many other Nigerians, Odunayo has called for an executive order from the President to #EndSARS.
Rise Vest
Rise Vest is a financial services company which provides global dollar investment opportunities in US stocks, real estate for users.
The company changed its twitter username to #EndSARS and has stated that Nigerians must not stay silent but continue to protest against police violence and brutality.
BudgIT
Data-driven civic startup, BudgIT also joined the #EndSARS campaign. In a post addressed to President Buhari on twitter, the company explained that SARS had become a menace to the society and should be completely disbanded.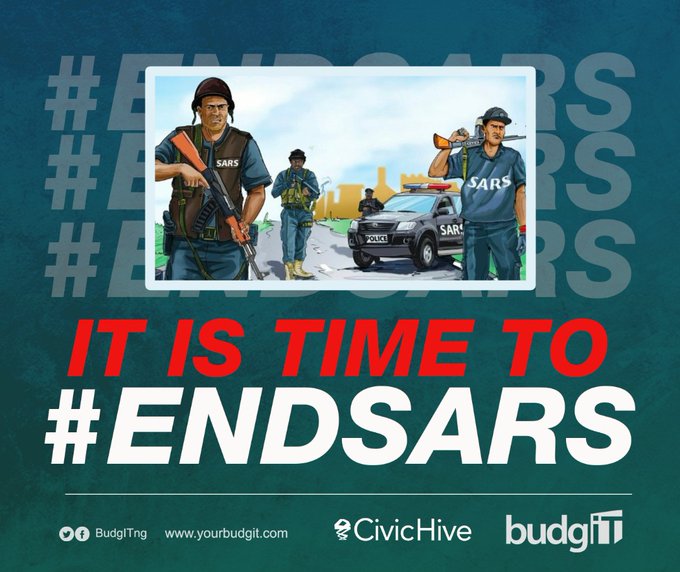 Others
It is important to mention the contribution of other companies that have added their voices to the #EndSARS campaign. These include Safeboda, Abeg Technologies, Ventures Park and Cowrywise.
Other notable tech media startups – TechCabal and Techpoint also joined the #EndSARS protests trend with instructive content.
Tech Entrepreneurs including Future Africa CEO, Iyinoluwa Aboyeji, Fola Olatunj-David, Victor Asemote, Yele Badamosi, Moe, Kola Aina, Adewale Yusuf, Former Minister, Omobola Johnson, Kola Oyeneyin, Dr Ola Brown and Mark Essien have been actively tweeting supportive messages and gave the trend an indelible force.
Conclusion
The #EndSARS campaign has shown the power of the Nigerian youths. Much more, it has shown the possible impact of collaboration among the Nigerian business community. It was pretty spontaneous but the organization has been impressive and the impact is unprecedented.
And we are proud of all the players!
Feature image credit: Reuters
Get the best of Africa's daily tech to your inbox – first thing every morning.
Join the community now!