Twitter has suspended the official handle of recently launched #EndSARS protesters' online radio "Soro Soke" on the premise that it violated Twitter rules.
Nigerians are obviously disappointed by the ban and have called out to Twitter and CEO Jack Dorsey – who had massively supported the #EndSARS protests few days ago to restore the Soro Soke radio account.
The online radio was set up to share real-time updates on #EndSARS protests through its live podcast to people who may not be able to gather such information across social media.
The mantra after which the online radio is named has been commonly used alongside the #EndSARS campaign on social media and during street protests.
Soro Soke is a Yoruba phrase which can be translated to "Speak Up!" in the English Language. It is now synonymous with young Nigerians speaking up and raising their voices against police brutality, intimidation and extortion in the country.
That said, the online "Soro Soke" radio is also campaigning for the five (5) demands Nigerian youths have requested that the government accedes to before #EndSARS protests will be stopped.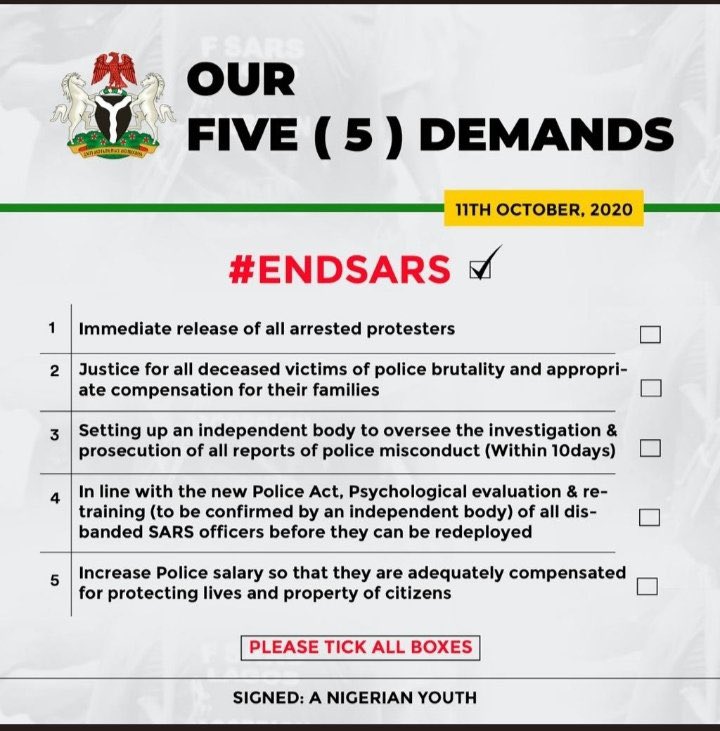 The live podcast, available on Mixlr, majorly intimates listeners with the latest information regarding #EndSARS protests across Nigeria and takes music breaks between updates.
Only revolutionary songs are played during the music breaks. Some of the songs to have been played on the "Soro Soke" live podcast are Michael Jackson's Heal the World, Falz's Talk and Johnny as well as Timi Dakolo's Great Nation.
Tributes have also been paid to those who lost their lives to SARS brutality – Jimoh Ishiaq, Tina Ezekwe, Koolade Johnson, Tiamiyu Kazeem among others. The radio has saluted late Anthony Onome, who recently lost his life after sustaining stab wounds inflicted by thugs at an Abuja #EndSARS protest.
Reactions..
Nigerians have asked Twitter to immediately restore the Soro Soke account, with many saying it represents the voice of many Nigerians against Police brutality and impunity in the country.
Olugbemiga on Twitter who shared this sentiment and stated that the #EndSARS Soro Soke radio is acting independently and unaffiliated to any political party which could have warranted it being banned.
"Please @jack unblock/ reactivate @Sorosoke247. We need this account at this critical moment," said another twitter user.
Earlier, several Nigerians had reacted positively to the launch of the Soro Soke online radio with many lauding the initiative.
A twitter user, Chidi mentioned that people can tune in to the online radio for up-to-date information about the #EndSARS protests. Meanwhile, Preye on twitter expressed sobriety at the tributes paid by "Soro Soke" radio to victims of SARS brutality.
"Soro soke is our online radio. This generation would never cease to amaze me," Bossman said on Twitter revealing how he was impressed with the new development.
However, not everyone was impressed with the radio's choice of name. JYauka on twitter opined that the Soro Soke name projects the #EndSARS campaign as a Yoruba movement rather than a national one. He asked that it should be renamed #EndSARS radio instead.
In summary, Soro Soke online radio is the latest project by #EndSARS protesters to push their fight against all forms of police intimidation and harassment in Nigeria. Many people are expecting a swift response from Twitter, hoping it overturns the suspension of their online radio.
Get the best of Africa's daily tech to your inbox – first thing every morning.
Join the community now!