The world is witnessing a continuing scarcity of laptops and personal computers (PCs) due to a remarkable rise in demand unmatched by requisite supply levels amid the COVID-19 pandemic.
Being the 7th country with the highest number of internet users in the world according to Internet World Stats, Nigeria has been notably affected by the current scarcity of computers.
Increased demand for computer systems including Hewlett-Packard (HP) and Dell has been occasioned by the COVID-19 pandemic, which has brought about a buying frenzy as individuals, schools and businesses purchase units to facilitate e-learning, remote work and even entertainment.
The shortages in supply are likely to persist as global manufacturers face a major supply chain crisis making it laborious to meet rising demand.
COVID-19 Lockdowns Lessen Production Capacity
The lockdowns enforced globally to curtail the spread of COVID-19 have significantly inhibited the production of computers by leading manufacturers worldwide.
Coronavirus had first broken out in Wuhan, China – the world's biggest manufacturer and exporter of laptops and PCs. China exports 140 million units of computers per year.
Lockdowns imposed in China and other countries following the rapid spread of the COVID-19 pandemic seriously restricted movement by banning mass gatherings and enforcing social distancing.
Manufacturers could not gather to produce units and assembly hardware components for computers. This resulted in a massive drop in production output from manufacturers, hence cutting down the volume of units available for sale.
With most laptop retailers and resellers in Nigeria heavily dependent on foreign imports from China, supplies have declined drastically.
Closure of Shipping Ports Delays Deliveries
The Coronavirus pandemic has also restricted shipping activities, thereby extending the expected time of delivery for imports/exports.
Ports were closed for long periods in various countries as part of COVID-19 control measures and this stalled the transportation of laptops to points of reception.
A report in the Financial Times revealed that it was taking up to three times as long for PCs to be delivered. What has resulted is a delay in the arrival of paid-for orders in several outlets and stores globally.
It also means that there is a pile-up of computers that have not been shipped to their target destinations, as distributors have been forced to postpone due shipping dates.
Bigger Companies Snatch Up Limited Units
Another factor which might have spurred the scarcity of laptops in Nigeria is the fact that bigger companies in developed countries such as China, UK and US have quickly purchased most of the limited computer units.
Bigger brands are able to pay upfront and work closely with top component suppliers such as Apple and Samsung to secure enough production capacity despite shortages.
Consequently, very few units are left for other corporations and businesses to compete for.
Having gone through some of the possible causes of the present scarcity of laptops in Nigeria, it is also necessary to examine how inadequate supplies will affect prices, purchases and imports.
Prices of Laptops Would Keep Rising
Just like with every other product or commodity, the scarcity of laptops has led to an increase in obtainable prices.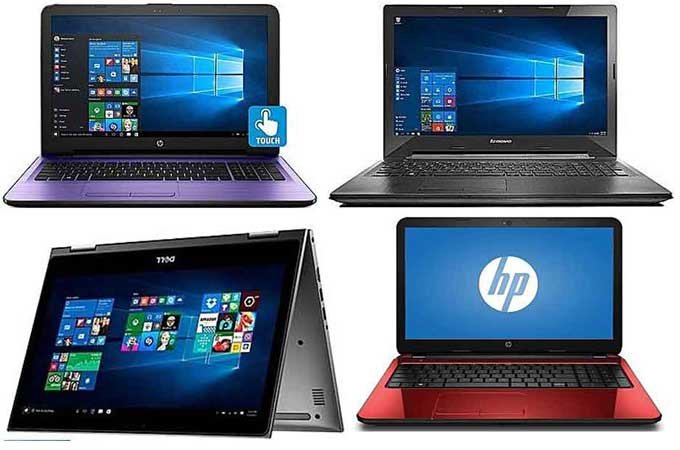 Since the COVID-19 pandemic broke out in Nigeria, laptop prices have increased by over 30% in the country.
Expectedly, retailers have hiked prices on computers to maximise the lingering scarcity of the systems. Buyers can only purchase the few available units at higher costs as sellers leverage the shortage in supplies.
Prices could keep going on an upward trajectory, especially as the festive season approaches. Dealers usually inflate prices during the yuletide period and laptops are not excluded.
Black Friday Sales on Laptops to Increase
Due to the scarcity of laptops, more Nigerians will look to cash in on Black Friday deals in which prices have been slashed on computers.
When it comes to laptops and PCs, affordability remains a big issue for the average Nigerian. Most Nigerians do not earn enough to buy a laptop, as 40% of Nigerians still live below the country's poverty index of N137,430 ($381.75) per year.
Leading online marketplaces such as Jumia and Konga could realise bigger sales on computers in this year's Black Friday deals. This would yield greater revenues from sales in the PC category.
Retailers May Patronise Local Laptop Manufacturers
Retailers in Nigeria are heavily reliant on laptop imports from overseas, especially China. If the scarcity of laptops protracts, retailers could patronise local manufacturers as an alternative to foreign imports.
However, this may not be on a large scale due to the fact that in-demand laptops such as HP, Dell and Lenovo are not produced by local Nigerian manufacturers.
But it could be considered a potential option to reduce the dependence of resellers on imports, encourage local manufacture of computers and cut costs on the shipping of systems from abroad.
Get the best of Africa's daily tech to your inbox – first thing every morning.
Join the community now!