Meta platform, Facebook has announced that it would be discontinuing Nearby Friends, among other features, by the end of the month.
The Meta messaging platform's Nearby Friends feature allows users share their current location with other Facebook friends.
It was released in 2014 for Android and iOS users. The function of the tool initially caused privacy concerns among some users, but has stayed on the Facebook App until now.
Facebook did not say why these features including Location History, Background Location, and Weather Alert will be phased out.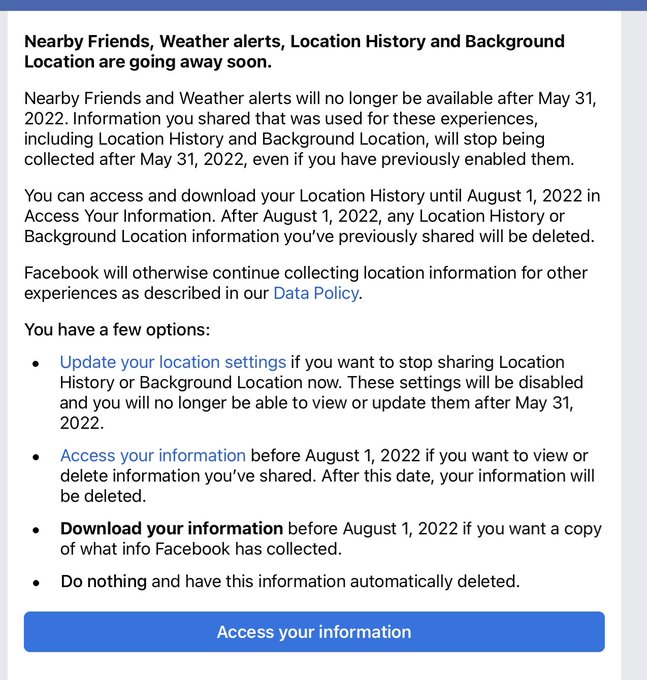 Facebook, however, stated in a notification to its users that all connected information shared with these features will stop being collected after May 31, 2022, even if users have already enabled them. Also, all previously collected information will be erased from the server.
Facebook has also said that users can browse and download their location history until August 1, 2022, and any previously shared location history or background location will be removed after August 1.
Related; WhatsApp launches emoji reactions feature to clean up chats
Users Opinion
Many Facebook users have taken to Twitter to express their displeasure at the removal of these functions.
While some users are disappointed by Facebook's decision because they can no longer find their friends and family, others are ecstatic.
Words like 'creepy,' 'stalking,' and 'unsafe' were prominent in the comments.
Other users have shown little interest in the decision. Their major concern is the weather feature, which for them was the most essential feature on the site.
Speculations arising
Even though no specific justification has been given as to why Facebook is discontinuing these features. There are rumours the corporation is attempting to reduce data collecting. And, this could be related to Meta's rising scrutiny of its user data collection practices.
For tech giants, collecting user data has been a problem. Meta threatened to ban two of their platforms, Facebook and Instagram, from EU countries in February 2022 on the same problem, as these platforms were not allowed to transfer data to and from the United States. EU officials had to intervene after Facebook was instructed to halt transatlantic data transfers. It was discovered that these data transfers were not secure enough, particularly against American government surveillance.
The European Union finalised the guidelines for the Digital Service Act in April. This limits how digital businesses such as Facebook, Google, and others handle content moderation and user data on their platforms, among other things.
Get the best of Africa's daily tech to your inbox – first thing every morning.
Join the community now!