Monday calls again, with another perfect opportunity to share tech events you can attend this week.
Wondering why we are sharing tech events this week? Tech plays such vital roles as easing processes and saving time and effort across different areas of our lives. So, it's just as important to list these events and draw you closer to the solutions they inspire and make happen.
These are the tech events happening around us this week: May 23 – 28, 2022.
CYSEC NG 2022 Hackathon, Awards and Cybersecurity Conference
The CYSEC NG 5th National Hackathon brings together the latest innovative exploits to Nigeria and Africa at Large.
It is themed 'Emerging Cyber Threats – Landscape and Defense'.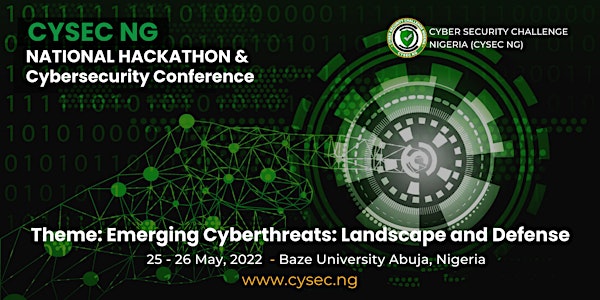 It will feature a Cybersecurity Conference, InfoSec Villages, Inter-University CTF, Women in Cybersecurity and Awards and Networking.
The event is scheduled for Wednesday, May 25, 2022, 10:00 AM – Thursday, May 26, 2022, 3:00 PM WAT.
Venue: Baze University, Abuja, Federal Capital Territory
Click here to get more details
An evening with African Business Heroes
An evening out with African Business Heroes is an application support workshop for interested applicants seeking to contest in the African Business Heroes competition 2022..
Co-hosted by WEAV Capital and DrugStoc, the workshop is a great avenue to learn from previous Africa's Business Heroes Finalists and winners on why you should apply and gain insights on how to submit a strong application.
The session will feature Ayodeji Arikawe of Thrive Agric, Dr. Tosan Joseph of Blacki Swan Tech and Chibuzo Opara of DrugStoc who will provide key tips and insights on what makes a strong application.
The event is scheduled for May 26, 2022, from 5:00 PM – 8:00 pm WAT.
Venue: 355 Restaurant & Lounge
9A Oko Awo Street, Victoria Island, Lagos.
Register here to get a ticket.
AR/VR Masterclass
AR/VR Africa Masterclass is a one-day training with Virtual Reality Creative, Joey Ekunwe. Joey will equip participants with insights and help them create their first 360 experience.
Works by the facilitator – Joey Ekunwe – include Lagos At Large. His current project in production, The Slavery of Science, was selected for the 2021 IDFA DocLab Forum, and is a 2020 Black Realities Grant winner.
Joey will take participants through the basics of 360 video production, including shooting, stitching, and editing content. No prior experience is required. Interested participants are encouraged to come prepared to create their first 360 experience.
AR/VR Africa Masterclass is open to Beginner and Intermediate participants.
Date: May 27, 2022
Time: 10:00 AM – 4:00 PM WAT
Venue: 8 Montgomery Road, Yaba, Lagos.
Skillznet Training
We live in a world that is increasingly becoming digitalised. It's crucial to pick up at least one skill in order to keep up and stay relevant in this century.
Skillznet, through the training, is offering insights into multiple areas to help you create a living and wealth. The courses include; Forex trading, Digital currency trading, Dropshipping, Blogging, E-commerce, Content marketing, Facebook marketing and Social media marketing.
The training costs $10 and open to teenagers, youths, the unemployed and employed, and everyone who desires improvement and staying ahead.
Date: May 27, 2022
Time: 12:oo AM – 3:00 PM WAT
Register to attend here.
Airflow Summit 2022
The Nigeria Apache Airflow meetup is joining the Airflow Summit to present in-person talks and networking for its local community.
Apache Airflow is a platform used to programmatically author, schedule and monitor workflows. It started at Airbnb in October 2014 as a solution to manage the company's increasingly complex workflows.
The Nigeria Apache Airflow meetup is on the schedule as one of the 12 participating locations in the Airflow Summit 2022 to present the following talks: How to How to Achieve Reliable Data in your Airflow Pipelines with Databand (online)- Josh Benamram; Ingesting Game Telemetry in near Real-time dynamically into Redshift with Airflow (WB Games)(online) – Karthik Kadiyam; A look under the hood of the Airflow logging subsystem(online) – Philippe Gagnon.
The talks also include: Happy DAGs + Happy Teammates: How a little CI/CD can go a long way(online) – Leah Cole and Leveraging Open Source Projects For Personal Development(local) – Ephraim Anierobi.
Date: May 24, 2022
Time: 3:30 PM – 7:30 PM WAT
Venue: Co-Creation Hub, 6th floor, 294 Herbert Macaulay Way, Yaba, Lagos.
You can register for the free-to-attend summit here.
Get the best of Africa's daily tech to your inbox – first thing every morning.
Join the community now!