Global tech giant, Apple has revealed a ton of exciting news at the Worldwide Developers Conference (WWDC) 2022. These include a glimpse at the highly-anticipated iOS 16, a new MacBook Air, what else iPhone users can do with their cameras and much more.
In case you missed the conference's live session, here's a list of Apple's biggest announcements:
Editable texts and 'unsend' in messages
With iOS 16, you'll be able to edit any messages you send in the Messages app, as well as undo any messages you sent earlier.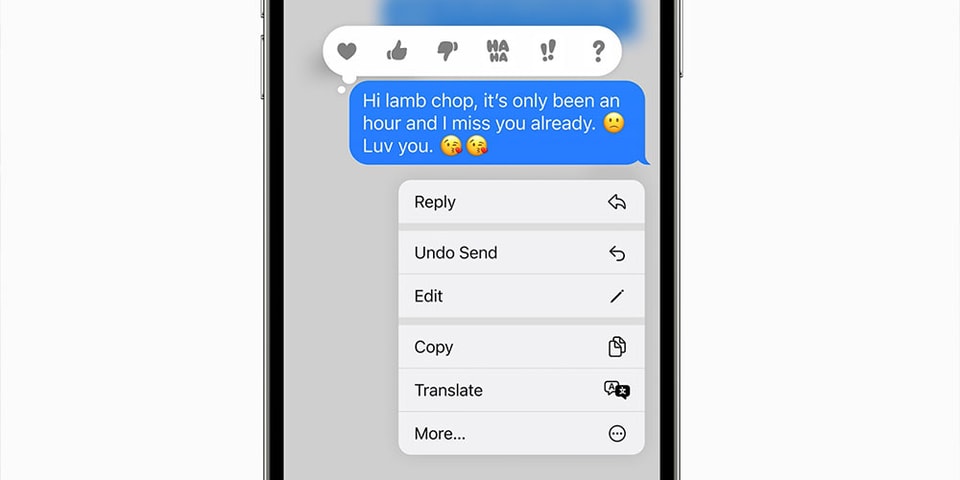 Apple is also introducing the ability to mark a message as unread so you can easily find it later.
iOS 16 has a customisable lock screen, updated notifications + more
After weeks of rumours and speculations, Apple has unveiled iOS 16, an update that is a make-over which enables a customisable lock screen interface. It means you now add custom wallpapers, change the date and time's font and colour, as well as add new widgets for weather, activity rings, calendar events, etc.
Apple is also pushing updates to notifications and its Focus feature.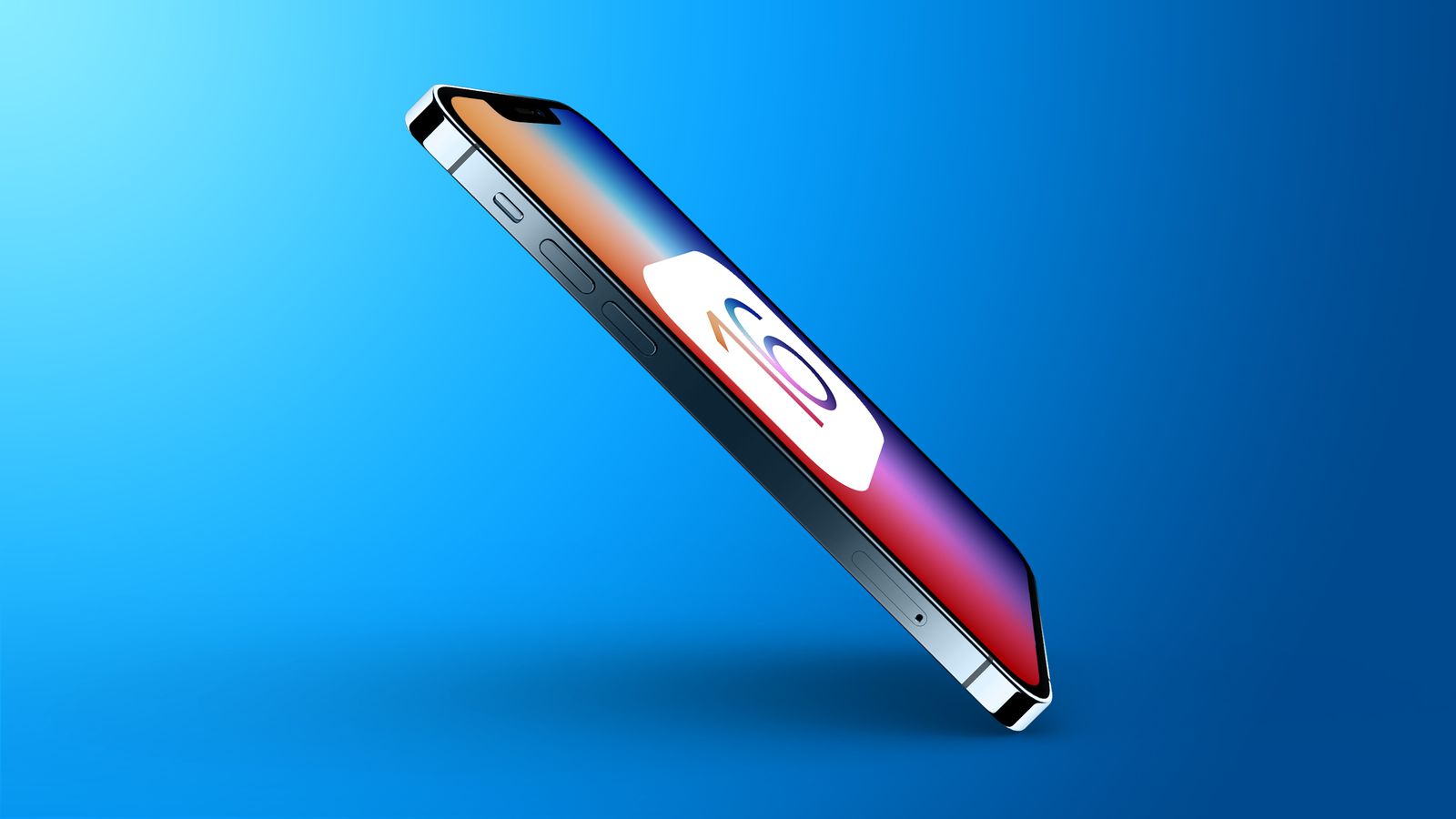 The iOS 16 release means Apple has dropped support for the iPhone 6s, iPhone 6s Plus, and the original iPhone SE. This also means that the iPhone SE 2, iPhone 7, and above iPhone will get an iOS 16 upgrade.
Live Activities allows you to work on apps from the lock screen
This new Live Activities feature makes it easier for iPhone users to keep up with the events that happen in real-time, such as sports games, gyms, trips, etc.
There is all the information on the lock screen. Redesigned notifications were created so that users can see a personalised lock screen.
Your iPhone as a webcam
Apple says you will soon be able to ditch your Mac's webcam and use your iPhone instead.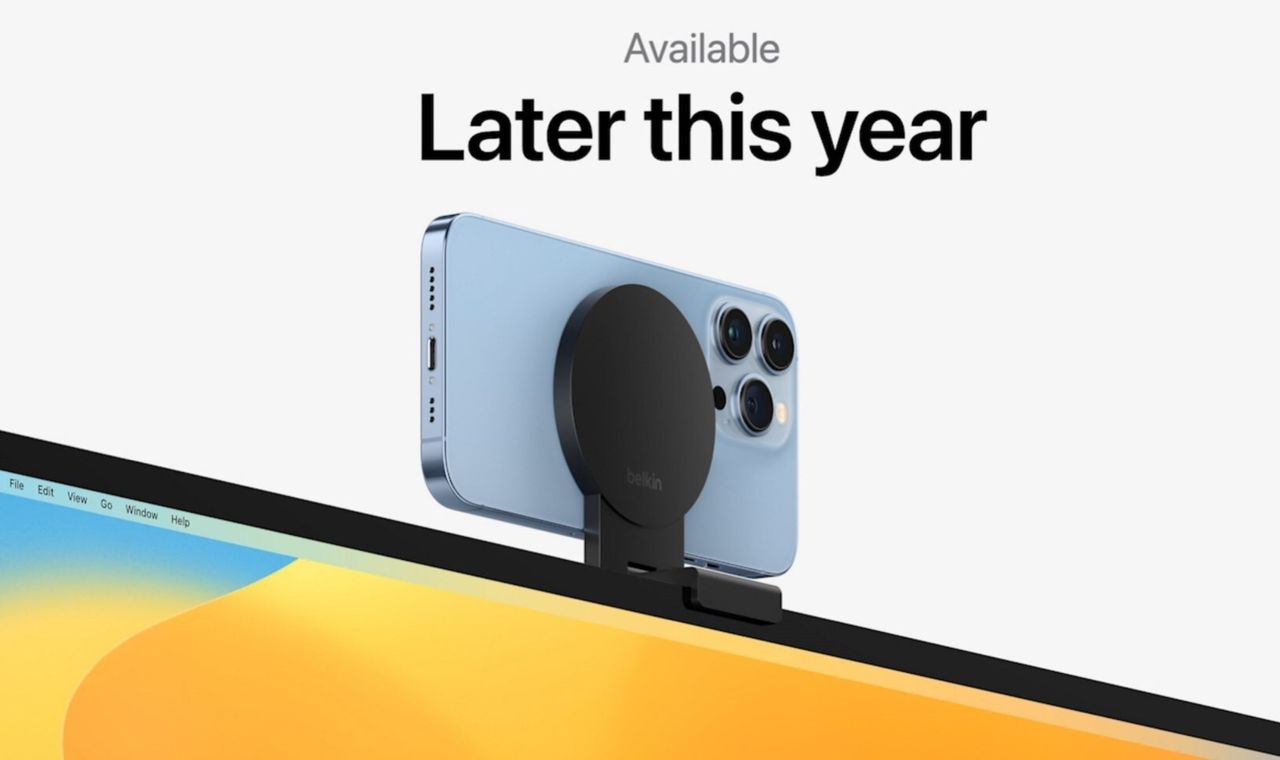 Apple announced at WWDC 2022 that macOS gives you the ability to use your iPhone as a webcam by attaching it using a specialised clip coming later this year.
Apple's watchOS 9 brings in a host of features
Apple has added a number of new health-tracking features such as new running metrics, atrial fibrillation tracking, and medication reminders.
In addition to all these new features, watchOS 9 also adds four new watch faces.
Apple's Fitness app is coming with iOS 16
You won't need an Apple Watch to access the Fitness app anymore. With iOS 16, Apple is bringing the software to iPhone, the company announced during WWDC 2022. Like its watchOS counterpart, the app will allow you to set daily activity goals, with a "Move ring" there to motivate you to stay active throughout the day.
Your iPhone will use its sensors to track your steps and workouts and then convert that information into an estimation of the calories you've burned. At any time, you can share your Move ring with friends and family to push them to achieve their activity goals too.
A pay later feature is coming with iOS 16
Apple is getting in on the "buy now, pay later" trend that lets you make a purchase and pay it in a series of instalments.
Apple Pay Later provides users in the US with a seamless and secure way to split the cost of an Apple Pay purchase into four equal payments spread over six weeks, with zero interest and no fees.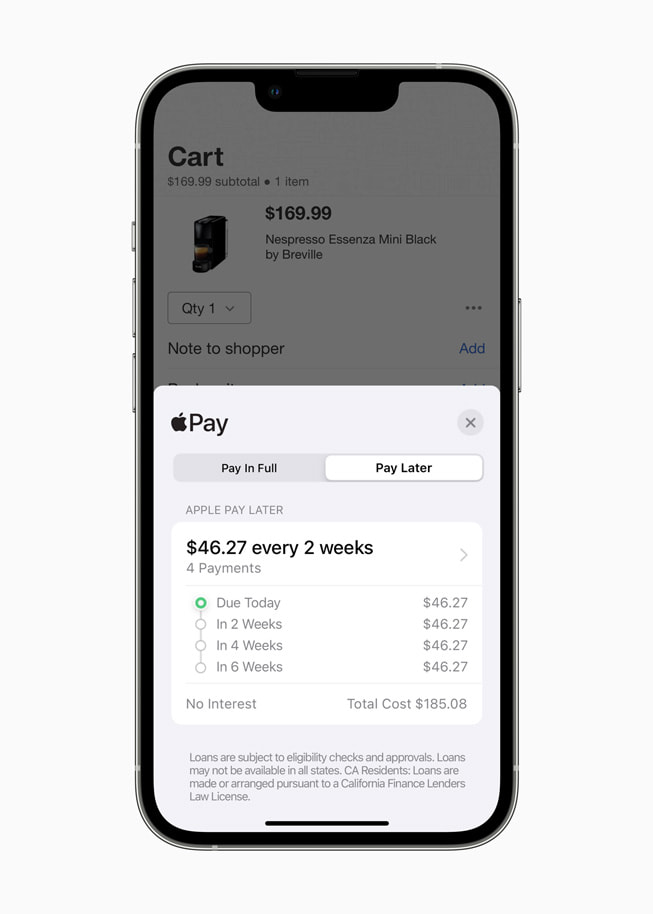 It will be built into Apple Wallet and designed with users' financial health in mind. Apple Pay Later makes it easy to view, track, and repay Apple Pay Later payments within Wallet. Users can apply for Apple Pay Later when they are checking out with Apple Pay, or in Wallet.
Passkeys to replace Passwords
macOS 13 Ventura is adding support for Apple Passkeys in Safari. This new feature essentially replaces the password, letting you sign in to various websites with just your iPhone or Mac.
Passkey is Apple's answer to the FIDO (Fast IDentity Online) authentication standard, which defines a fast and secure authentication mechanism for users to access websites and applications.
Passkeys will work on both websites and within apps. They will stay within a user's macOS or iOS devices. All sharing between Apple devices will be done over a user's local network in an encrypted session.
Apple announces new MacBook Pro 13-inch with M2 chip at WWDC 2022
The 13-inch MacBook Pro is getting an M2 upgrade. It comes with up to 24GB of RAM, up to 2TB of storage, as well as up to 20 hours of battery life — and it still has a Touch Bar.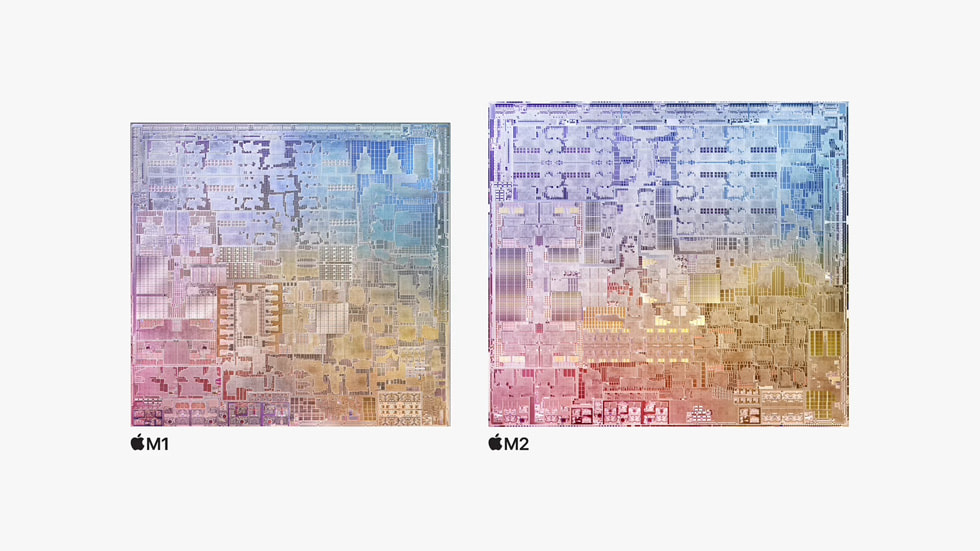 The system-on-a-chip (SoC) design of M2 is built using enhanced, second-generation 5-nanometer technology, and consists of 20 billion transistors — 25 per cent more than M1. The additional transistors improve features across the entire chip, including the memory controller that delivers 100GB/s of unified memory bandwidth — 50 per cent more than M1.
The new 13-inch Pro will be available next month and is available to preorder now, starting at $1,299.
macOS Ventura adds powerful productivity tools and new Continuity features
"macOS Ventura includes powerful features and new innovations that help make the Mac experience even better. New tools like Stage Manager make focusing on tasks and moving between apps and windows easier and faster than ever, and Continuity Camera brings new videoconferencing features to any Mac, including Desk View, Studio Light, and more," said Craig Federighi, Apple's senior vice president of Software Engineering.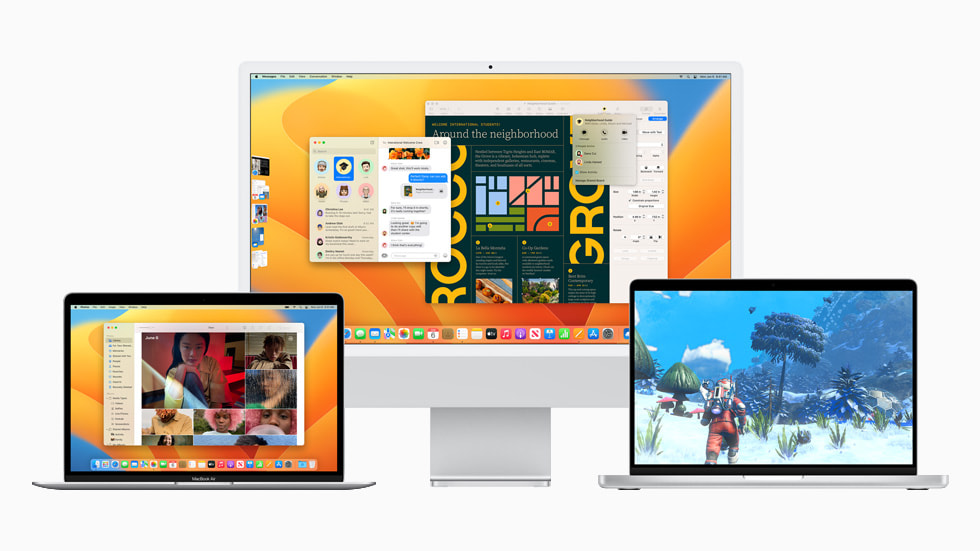 "With helpful new features in Messages, state-of-the-art search technologies in Mail, and an updated design for Spotlight, Ventura has so much to offer and enriches many of the ways customers use their Macs."
Stage Manager automatically organises open apps and windows so users can concentrate on their work and still see everything in a single glance.
iPadOS 16 brings multitasking and collaboration closer
iPadOS 16 comes with a new collaboration feature that lets you work with others within office apps, such as Pages, and is also getting a handy new whiteboard tool called Freeform. Apple also announced improved multitasking features with Stage Manager, allowing you to resize and overlap windows on your iPad.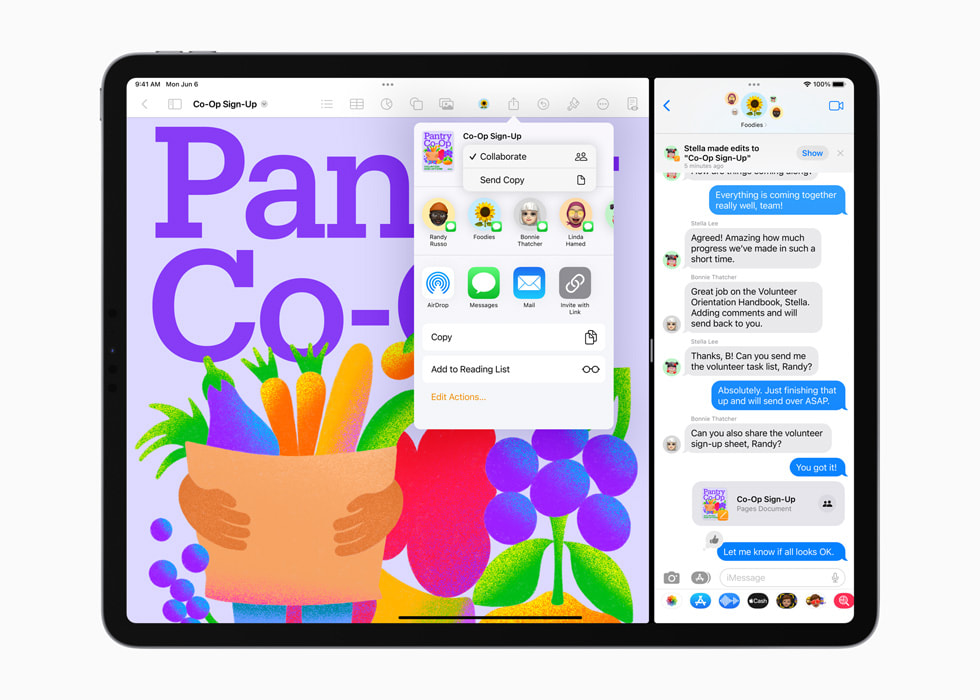 "iPad is our most versatile device, and we're excited to take what it can do even further with iPadOS 16," said Craig Federighi, Apple's senior vice president of Software Engineering.
"With Stage Manager, which makes multitasking on iPad to a whole new level, plus new ways to share and collaborate via Messages, Safari, and the new Freeform app, and new pro features like Reference Mode and Display Zoom, users can get even more done on iPad."
Xcode Cloud is now available
Xcode Cloud is now available with a range of subscription plans to best fit developers' needs, starting with 25 hours per month free through December 2023 to all members of the Apple Developer Program and topping out at 1,000 hours per month.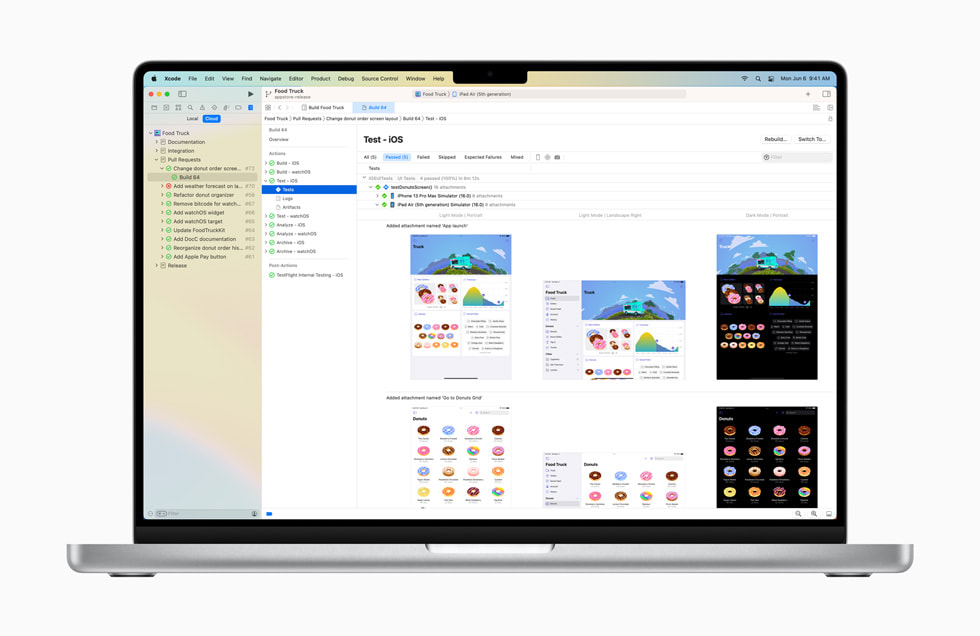 Xcode Cloud is a continuous integration and delivery cloud service designed specifically for Apple developers. It enables developers and teams of all sizes to build, test, and deliver high-quality apps even more efficiently by automatically building apps in the cloud to free up their Mac for other tasks.
And with parallel testing in the cloud, developers can test on a simulated version of every current Apple device, easily deploy a build for internal testing, or deliver it to beta testers through TestFlight.
Apple introduces Safety Check to help people in abusive relationships
Apple is rolling out a new feature that will help its customers quickly review and restrict who has access to their devices, accounts and applications. The Safety Check feature is designed to help people who may be in abusive relationships.
It's not uncommon for people to share access to their devices and accounts with others, Apple senior manager Katie Skinner said during the WWDC 2022 keynote on Monday, "In abusive relationships, this (sharing access to their devices and accounts with others) can threaten personal safety and make it harder to get help."
Get the best of Africa's daily tech to your inbox – first thing every morning.
Join the community now!