According to a report by crypto exchange platform Paxful, Nigeria and Kenya are currently witnessing a rise in the adoption of cryptocurrencies by their citizens.
According to the report around 17.3 million Nigerians have distributed more than half of their own wealth into assets like Bitcoin. It also indicates that 70% of all those investors are even looking to increase their adoption and exposure to the space before the end of the year, Paxful reports.
This is quite surprising as Nigeria is presently under a stiff regime by the country's apex financial body, the Central bank of Nigeria. Then, this rise signals strong regard for digital coins as a tool for financial autonomy for individuals who otherwise have few options.
Nigeria, Kenya, El Salvador, and Vietnam are showing us in real-time that Bitcoin is no longer just a vehicle for unlikely returns on investments. It's also something that can help millions of people around the world. Ijeoma Ndukwe says that this correlates to "a loss of faith in more traditional forms of investment."

Paxful report…
A growing trend despite regulation
With Africa rapidly taking up a significant portion of the picture, the rise in online transactions and purchases during the epidemic exponentially boosted interest in adopting digital currencies like bitcoin as an alternative to traditional financial management today.
Nigeria, for example, has been a long-time frontrunner for Bitcoin adoption in Africa since its emergence. According to a study (Into the Cryptoverse Report) by KuCoin, 33.4 million Nigerians have either owned or traded cryptocurrencies.
That translates to a 35% adoption rate among people between the ages of 18 and 60.
Consequently, the Nigerian government banned the adoption and use of cryptocurrencies for transactions in the country on February 5, 2021, when the Central Bank Of Nigeria (CBN) announced that all financial institutions should stop facilitating crypto transactions and desist from transacting with entities engaging in crypto,
Despite the ban on crypto transactions, Nigeria was ranked as "the leading country per capita for Bitcoin and cryptocurrency adoption in the world." This implies that no other country in the world does more Bitcoin trading than Nigeria.
One major factor influencing the rise of crypto and other digital currencies adoption in the country is a loss of faith in the country's official currency owing to the volatility of exchange value with the Dollar. The Naira currently exchanges for N419 on the interbank market (N610 in parallel).
This, for instance, is a 160% of the N180 was the rate in 2014.
Related story: Cryptocurrency and Inflation: How to protect your Naira using crypto
Kenya is also on the beat
According to a report from TripleA, 8.5% of all Kenyans—around 4.5 million people—currently own cryptocurrency. The country is ranked top for trading volume on peer-to-peer platforms.
Kenya is also fifth in the world for total cryptocurrency activity.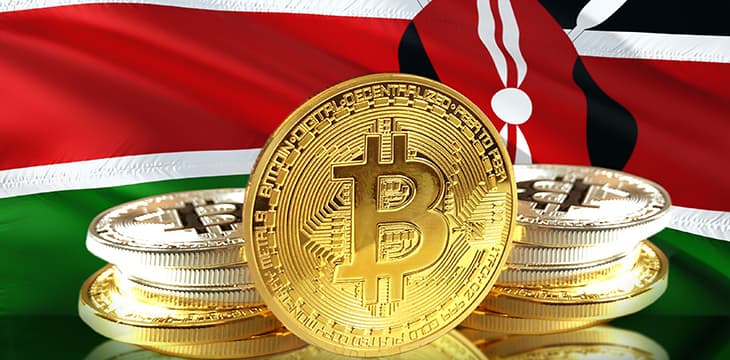 This attests to previous reports that Kenya leads the way in terms of holdings and blockchain-related transactions among all other African countries. As of January 2018, Kenya's Bitcoin holdings were responsible for over 2% of the country's GDP, according to Paxful.
Despite the fact that Kenyan Government did not recognize cryptocurrency and has several attempts to discourage adoption by warning people about high volatility in the crypto market, the number of transactions using bitcoin has escalated.
Kenya tops on Google search report for the search for the term "cryptocurrency" globally with a 94.7% search rate.
Other African countries on the list
Recently, the Central African Republic announced that it has legalised the use of cryptocurrency as a legal tender.
This came after the country through its Minister of Digital Economy, Post and Telecommunications of Central African Republic, Justin Gourna Zacko, introduced the cryptocurrency bill on April 20 which was approved unanimously by all lawmakers in the parliament after repeated protests from the opposition.
"there are so many advantages in cryptocurrencies, but first we would have to have the legal frameworks to allow any Central African also benefit from this possibility of transferring money and receiving money,"

Justin Gourna Zacko, CAR's Minister of Digital Economy, Post and Telecommunications
Also recently, the country announced that it is set to launch Africa's first cryptocurrency investment hub (Project Sango) extending the country's embrace of digital finance. This announcement is coming in spite of the recent warnings from the International Monetary Fund (IMF) on the risk of adopting crypto as a legal tender.
Reasons for crypto's growing popularity
Alternative to local currencies
One of the major reasons for the growing popularity and adoption of bitcoin by citizens especially in developing economies is the alternative it provides to their weak currencies.
Given the worsening economic conditions brought about by the pandemic in 2020 and the poor economic policies of major economies in Africa, the exchange rate of these currencies continues to experience depreciation as well as a worsening balance of payment due to high inflation.
As a good store of value, cryptos like Bitcoin have proven viable.
Reliability
One other reason is the reliability of blockchain transactions. As more people adopt it as a means of payment globally, forms of payment have become quicker. But, many are still not on the train. But, there are still quick ways to covert holdings to cash.
A major solution to not finding a retail outlet that accepts bitcoins as a means of payment is to convert your BTC into currencies through one of the many payment options available on platforms that allow you to convert your coins into currencies and use that to pay.
The best part is that you could even earn more on that conversion.
Accessibility
Because of its decentralized nature, one of the major problems crypto payments solve is helping unbanked communities and individuals carry out transactions seamlessly. All you need is a stable internet connection and a Bitcoin wallet.
Traditional banking systems still have lapses in the delivery of international services. Most of these gaps are caused by national and regional financial regulations. But, the blockchain system, upon which many cryptocurrencies are based, does not obey such laws.
Opportunity to earn extra
Cryptocurrencies serve most people as a form of investment. Holders earn extra income after a long time. Reports have indicated that the majority of cryptocurrency holders intend to save their wealth with holdings or plan to save them for the future.
Many Nigerians actually have trading portfolios to earn more in the future. In fact, some have made a job out of helping other people identify crypto coins with potential for investment holdings.
Get the best of Africa's daily tech to your inbox – first thing every morning.
Join the community now!