It is no secret that there is a gender diversity problem in the STEM field. Over the years, girls and young women have shirked away from the field and pursued other careers or developed their entrepreneurial skills instead.
Thankfully, some women have started to encourage, educate, and inspire more women to fill take these roles in the STEM space. The main goal of these women in tech is to find solutions to closing this gender gap amidst other societal problems, whether through empowerment, mentorship or by building innovative technologies.
One of these women is Oyinkansola Adebayo, the CEO and founder of Niyo Group, a group of companies that specialise in using technology to empower black women in the UK economically.
From studying economics to becoming a tech CEO
Although Oyinkansola Adebayo is the CEO and founder of the Niyo Group, she is not the typical tech sis. She does not write codes or dedicate her life to programming languages.
She is an economist who has advocated for Black women's empowerment in the UK through technology and innovation.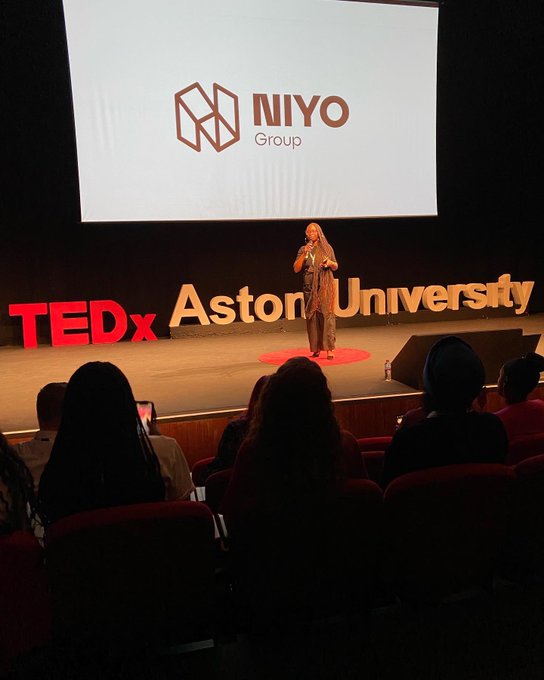 Oyinkansola Adebayo graduated from Nottingham Trent University with a bachelor's degree in Business Management and Economics. While undertaking the requirements to earn an undergraduate degree, she found time to engage in numerous NGO programmes, which helped to build her perspective on problem solutions, particularly for the Black community.
After acquiring her undergraduate degree, she began a Master's programme in Development Economics at the University of Birmingham, where she researched women's empowerment and poverty.
At this point, she realized that many jobs that Black women strived to get would become extinct soon, and action needed to be taken to prevent this impending unemployment. She has since dedicated the rest of her career to ensuring that black women would be able to acquire the required skills to remain relevant in the coming age.
As a savvy woman particularly interested in emerging technologies, Oyinkansola Adebayo decided to tackle the problem using technology, ingenuity and her economic talents to provide a solution for the community.
According to my research, we needed to either be the builders of technology or we would be essentially victims of technology.

Oyinkansola Adebayo, Niyo Group
This conviction birthed the Niyo Group, a parent company with three initiatives—Niyo Bootcamp, Niyo Dapp, and Niyo Beauty and Hair. Oyinkansola believes these initiatives are needed to upscale and eradicate unemployment through empowerment, thereby closing the racial wealth gap Black women face, particularly in the UK.
The impact of her initiatives has been recognised in BBC News, BusinessDay, The Voice, Metro, Black Beauty and Hair Magazine, Nottingham Post. She has also won many awards, including Great British Fashion & Beauty Entrepreneur of the year, MBCC Entrepreneur of the year and Female Innovator of the year.
She has spoken at Women In Tech Festival, Vodafone UK, KPMG, Goldman Sachs, Credit Suisse, Africa Tech Week, and Birmingham Tech week.
Her contribution to the tech industry
The Niyo Group is a group of companies that embeds technology and innovation in its services. to economically empower lives and eradicate poverty.
The company, Niyo Group is made up of three initiatives.
The Niyo Bootcamp: An ed-tech platform where black women of any social status are trained to break into the tech and high-impact industry. It also has mentoring programmes and has partnered with other boot camps and some UK firms to provide further job opportunities for black women.
The boot camp community currently has about 7,000 participants (black women in the UK) and have upscaled and empowered 560 women since 2020.
Niyo Hair and beauty: According to Oyinkansola Adebayo, this initiative is powered by innovation, technology and ingenuity as its key driving force. Besides being an e-commerce platform, it also provides online classes focused on business management for black hairstylists in the UK.
There are also workshop sessions and the introduction of new technologies for the stress-free management of afro hair.
Niyo Dapp: This is a fashion platform that enables creators, brands and users to have a valuable experience and earn rewards in the form of fractional NFTs whilst creating and engaging social content.
The idea behind this creation is her discovering a disconnect between social creators, users and brands. Niyo Dapp is a blockchain platform set to reward content creators in the beauty sector with NFTs and reward their users with the physical products they wear in their favourite influencers' content.
Brands will invest in creators as a risk, as a gamble, for content creators, they see it as well I am getting the views so invest in me and users dont trust that relationship.
Oyinkansola Adebayo's mission in the tech ecosystem
Niyo Group's mission is to add value to the community with technology as the driving force. Oyinkansola Adebayo seems to be doing so by incorporating Web3 technologies and related mentorship boot camps and opportunities into her company services.
For us we really believe in how can we actually use innovation and technology to be able to drive our society forward and change the face of our culture.
Speaking about how dependable these technologies are and the benefits of incorporating them into her company's services.
Oyinkansola Adebayo believes there are a lot of issues with Web 3 products because some creators have released things too early. Also, they have not made these products simple enough for their target customers to understand and engage.
She believes she understands what her consumer wants and how the web3 solution can solve certain problems the company is looking to solve in a very simple way.
Read Also: OpenSea's recent actions confirm power belongs to the NFT community
Gender biased challenges
The concept of gender bias is still very prevalent in society, and Oyinkansola Adebayo has been on the receiving end as a black businesswoman who works closely with many women.
This gender discrimination comes in different forms; she has experienced financial exclusion and ridiculous client expectations. She has also missed out on opportunities that went to less qualified male colleagues.
There is just an expectation on unconscious bias that happens when it comes to people being successful in the space.
She has also faced more gender bias because of her targeted audience -black women. For Oyinkansola, a lot of clients find it hard to understand that the reason is that, most of the time, this group is the most affected by some of the massive challenges that we face in the world today.
Her focus is on Black women in the UK because she lives in the UK, and according to a report, up to 20,000 black women are "missing" from the UK's tech sector. The survey shows 2.5 times fewer black women working in IT than in the entire UK labour force.
Expansion plans
One of Oyinkansola's major goals is to expand her services to empower every black woman worldwide. While her focus now is on black women in the UK, Oyinkansola admitted that the UK is quite limiting, so there are plans to expand globally in the coming years.
As a Nigerian, Oyinkansola Adebayo also has plans to expand Niyo Group services to her motherland.
Finally, speaking on her inspiration, Oyinkansola believes her Christian faith is her solid rock and inspiration to keep thriving amidst challenges.
Get the best of Africa's daily tech to your inbox – first thing every morning.
Join the community now!