Google has announced a roll and expansion of its VPN access to all Google One plans in selected countries over the next few weeks. The company said it is including the Basic plan that starts at $1.99/month.
The VPN will be available in 22 countries, excluding African countries across Android, iOS, Windows and Mac devices. Individuals can also share the VPN with up to five others if they're on your Google One plan.
Excerpts from the blog statement:
"Starting today, and rolling out over the next few weeks, we're expanding VPN access to all Google One plans, including the Basic plan that starts at $1.99/mo. The VPN will be available in 22 countries across Android, iOS, Windows and Mac devices. You can also share the VPN with up to five others if they're on your Google One plan."
The VPN by Google One adds more protection to internet activity by users no matter what apps or browsers they use, shielding it from hackers or network operators by masking the IP address. Without a VPN, the sites and apps users visit could use the IP address to track a user's activity or determine their location.
Google One is a subscription service offered by search giant Google that offers users additional storage space in their Google accounts, as well as additional benefits and features such as discounts on Google products, 24/7 support, and family sharing of storage plans.
The service offers advanced features, including access to Google experts for tailored assistance with Google, automatic backups for Android devices, additional benefits for Google products like Google Play credit and hotel discounts, and automatic backups for Google products. Its plans range from 100 GB to 30 TB of storage space.
The service which excluded African countries includes the following locations:
Austria
Australia
Belgium
Canada
Denmark
Finland
France
Germany
Iceland
Ireland
Italy
Japan
Mexico
Netherlands
Norway
South Korea
Spain
Sweden
Switzerland
Taiwan
United Kingdom
United States
Read also: Google celebrates IWD with 3 new initiatives, names 15 women-led startups for Africa accelerator
Africa left out
Undoubtedly, Google's play in Africa is seductive and transformative. It has launched dozens of projects in Africa. Its search engine is now available in 31 African languages, including Ewe, Sesotho, Wolof and Amharic. A $1.25m project will digitise Nelson Mandela's documentary archives. Another pilot in Nigeria – the Get African Business Online project – is helping small businesses to build websites.
However, with no African counties featured in the list, including markets such as Kenya, South Africa, Egypt and Nigeria, where Google enjoys millions of customers who use its services daily, there could be cause for concern.
It's even more so seeing the millions of cyberattacks happening in and from Africa. According to Interpol's 2021 African Cyberthreat Assessment Report, Africa lost over $4 billion to cyber risks. Despite the magnitude of the threat faced, the response has been constrained by the inadequate capacity of several African countries to defend against these threats due to limited resources.
Given the advantages of VPN services described above, it is concerning that Google has decided not to offer the service to millions of Africans who require resources like these to increase their online security.
These VPN services are useful, and we hope Google will make them available to other nations in the near future, particularly in Africa.
Read also: Nigeria elections: 5 Google resources to help you play your part and stay updated
Dark web report
Also revealed during this announcement is the availability of dark web reports for Google One customers.
Specifically, data breaches that affect millions of people annually make it more common for people to commit digital identity fraud. The dark web is a difficult-to-access area of the internet that needs a specialized browser to access and isn't indexed by search engines. That is where most of the stolen data can be discovered.
Users can access a dark web report from Google One that assists them in searching the dark web for their personal information, such as name, address, email, phone number, and Social Security number, and notifies them if it is discovered. Users can give and choose the data they want to monitor in their monitoring profile when they enable this dark web report.
The dark web report is available to all Google One plan members in the United States.
Plans
If you frequently upload photos to Google Photos, you will likely already utilize Google One services, as Google no longer enables users to save their photos in the cloud for free. Individuals who have used up their free 15GB of storage have also been compelled to switch to Google One because their accounts are useless without more space for their mail, attachments, or the aforementioned photographs on Google Photos.
See the image below for Google's plans: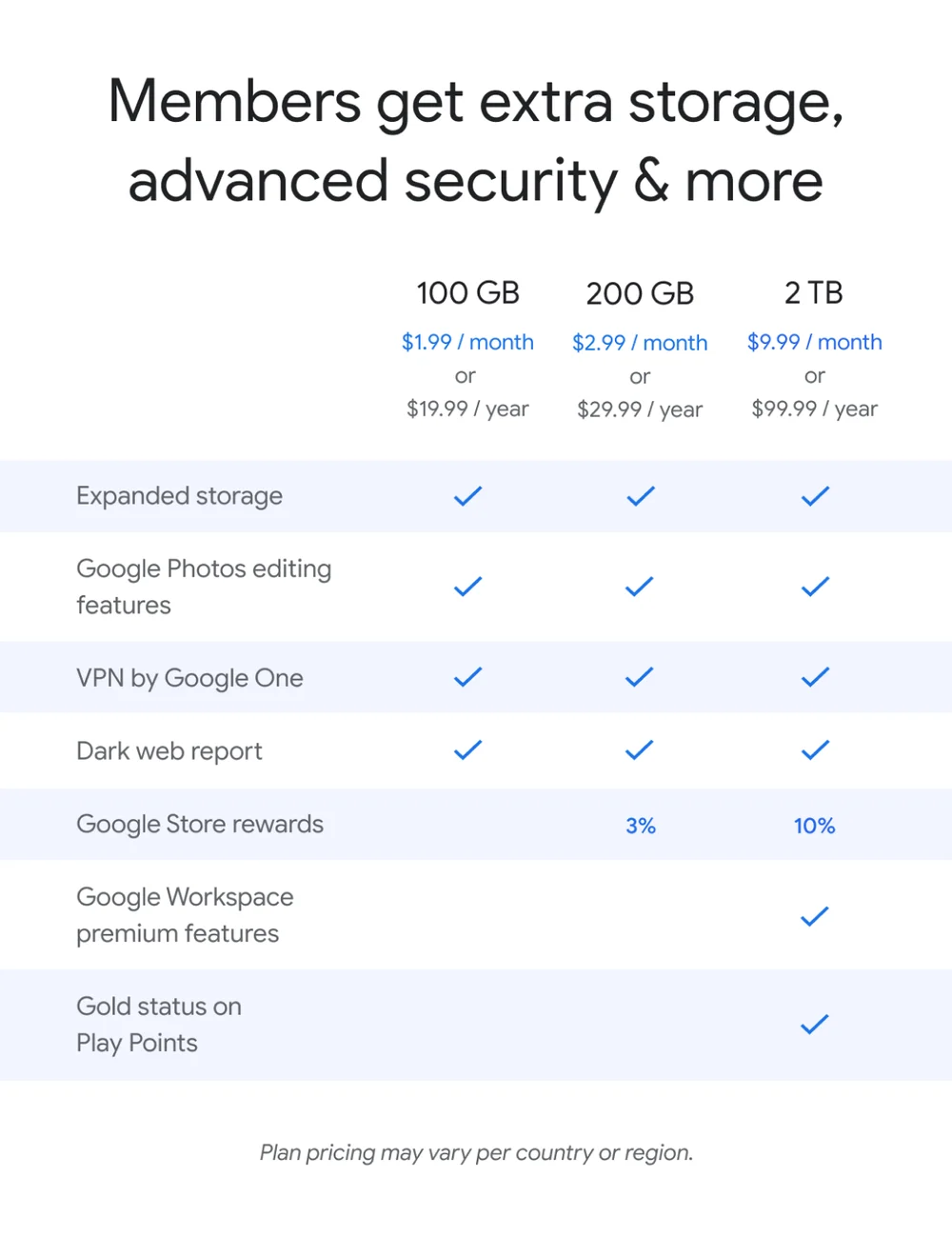 Get the best of Africa's daily tech to your inbox – first thing every morning.
Join the community now!