Twitter has introduced new labels and warning messages to provide information or heads up on some tweets containing misleading information on COVID-19.
This is the latest effort by the microblogging platform to prevent the spread of misinformation by its users. Previously, the company introduced the feature of adding a credible source of information for each country to the top of the timeline. In the case of Nigeria, @NCDCgov, as well as the institution's site, is displayed.
This is in addition to the removal of misleading tweets that may lead people to engage in harmful activities or include misinformation
But in April, a report from Oxford University researchers shows that Twitter is lagging behind its rivals when it comes to removing misleading information about COVID-19. This is as the company has failed to remove about 60% of misinformation surrounding the coronavirus pandemic.
The new update indicates an increased effort towards quenching COVID-19 misinformation on the platform. Tweets about the pandemic will be measured against global and local health information from authorities. In case of disputable information, the tweet will include a label which links to a page curated by Twitter or to an "external trusted source" that can provide information about the claims made in the tweet.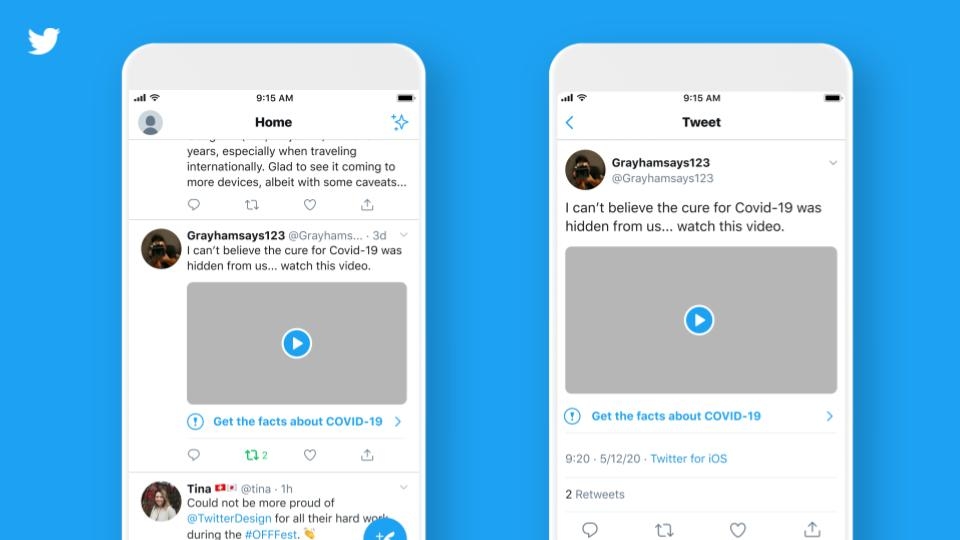 The other aspect will see tweets come with warning messages. Like when users are warned of blocked words in a tweet, users will also be given a heads up of likely misinformation in some tweets.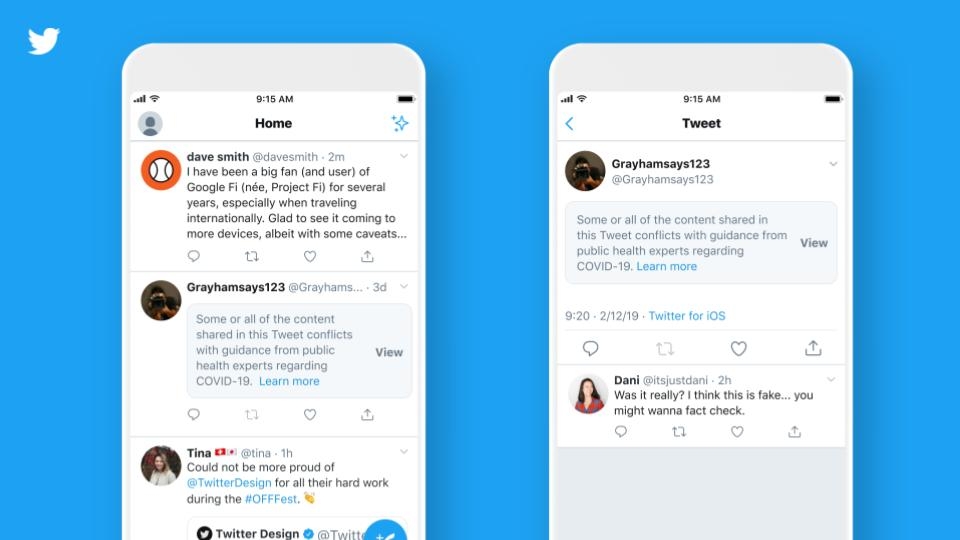 Although how the tweets will be actively tracked, detected and labelled is not made clear, Twitter shared a chart that shows which tweets get a label versus a warning or have no action taken.
The company also claims that it will have to improve internal systems for its teams to monitor these COVID-19 related contents.
"Our teams are using and improving on internal systems to proactively monitor content related to COVID-19. These systems help ensure we're not amplifying Tweets with these warnings or labels and detecting the high-visibility content quickly."

Twitter.
The company has also said it will rely on trusted partners to identify content that is likely to result in offline harm and will give priority to contents that could lead to increased exposure or transmission.
Twitter has previously extended this to media, pictures and videos as well as other topics like series of 5G misinformation last month.
Misinformation and Fake news have always been serious issues on social media. Platforms like Facebook, WhatsApp, Google and YouTube have rolled out measures to counter COVID-19 misinformation.
Facebook has rolled out a fact-checking pilot in Nigeria to tackle coronavirus-related misinformation and allow local authorities to run free campaigns on its platform. Its other company, WhatsApp has also been a platform for authorities to deploy chatbots to answer COVID-19 queries and has reduced forwarding limits to strain misinformation process.
Google has also prioritised veritable information to show up first when queries related to the coronavirus pandemic is searched while YouTube has been displaying relevant, third-party fact-checked articles when related queries are searched.
Get the best of Africa's daily tech to your inbox – first thing every morning.
Join the community now!