Elon Musk's Tesla has announced that it will no longer accept Bitcoin payments due to energy-related concerns.
Tesla has suspended bitcoin purchases using Bitcoin. We are concerned about rapidly increasing use of fossil fuels for Bitcoin mining and transactions, especially coal, which has the worst emissions of any fuel.

Tesla
However, Tesla stated that it will not be selling any of its Bitcoin assets and is now on the lookout for alternative cryptos which use less than 1% of Bitcoin's energy.
Tesla's rather unexpected move comes just two months after the automaker began accepting Bitcoin as payment for its electric cars.
Is this really about Energy Pollution?
Tesla claims that its suspension of Bitcoin payments is due to concerns over the negative environmental impact caused by coal-powered Bitcoin mining. But this may not necessarily be the case.
Bitcoin mining is simply the process whereby new Bitcoins are brought into circulation. It is carried out using highly sophisticated computers that are able to solve extremely complex computational math problems.
However, most of the energy supply used for Bitcoin mining activities conducted globally comes from coal-powered power plants. In fact, some researchers opine that several states lure crypto miners to keep their coal plants operational.
According to a study, Bitcoin mining uses as much energy as the Netherlands, and its carbon footprint is estimated to be the size of Singapore's.
It's very possible that Tesla, an energy-conscious company knew this before buying up to $1.5 billion worth of Bitcoin in February. As an electric car manufacturer, Tesla itself advocates for sustainable energy adoption. Why the U-turn now?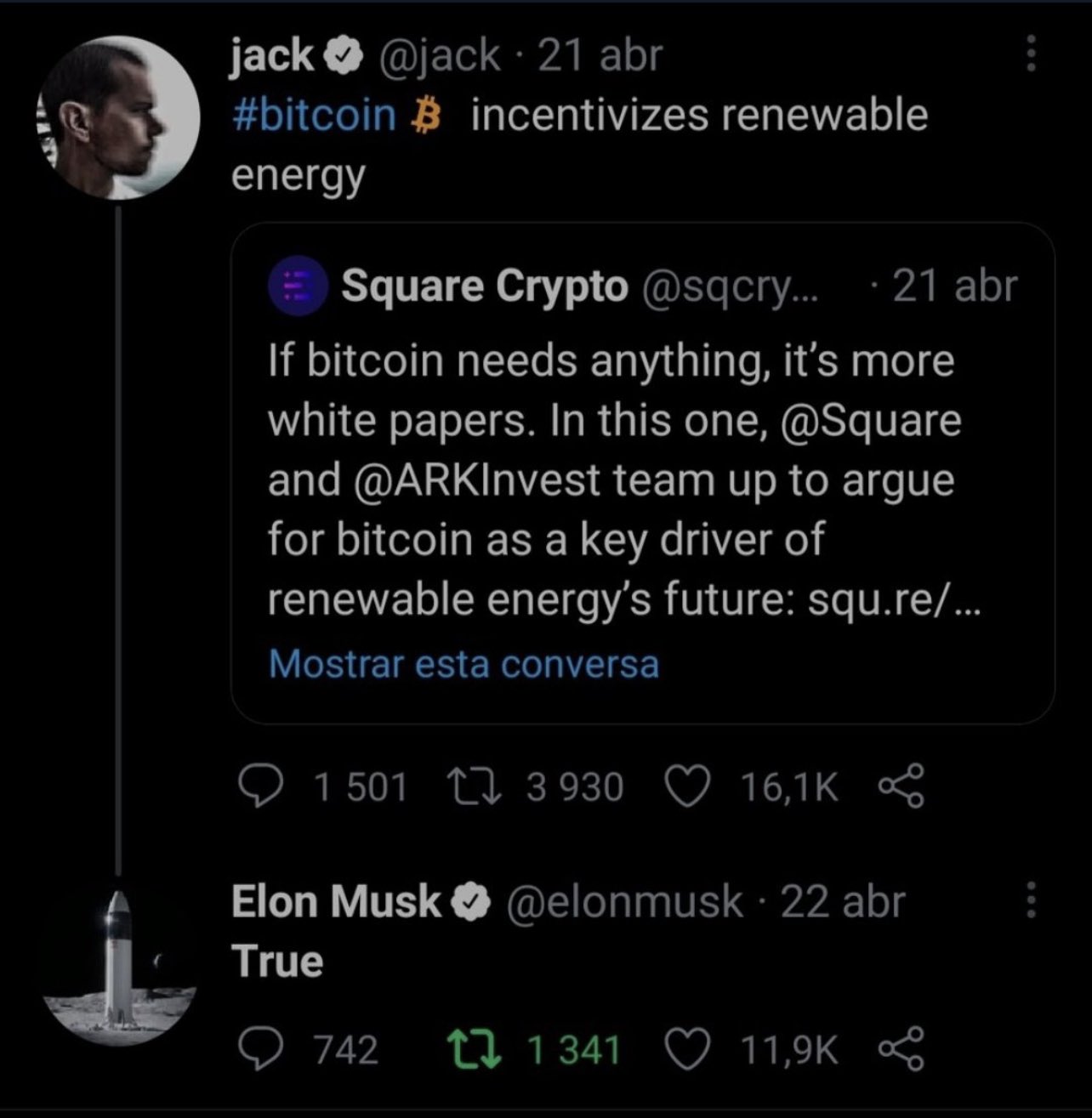 Microstrategy CEO, Michael Saylor Ironic argues that no incremental energy is used in a Bitcoin transaction and the net impact on fossil fuel consumption over time will be negative, other things being equal.
Moreover, Morgan Creek Capital founder and staunch Bitcoin proponent, Anthony Pompliano Elon, claims that "75% of miners use renewable energy."
If this were the case, then Tesla's energy concerns won't appear valid enough for external observers. The automaker definitely wouldn't want Bitcoin price to plummet due to its investment in the crypto asset class. Thus, its explanation for suspending Bitcoin payments seems like a strategy to reduce the effects of the announcement on the price. But that hasn't been the case.
Bitcoin Price Falls by 16%
The world's biggest cryptocurrency saw its price plunge by about 16% on Thursday after Tesla's announcement, with several investors incurring heavy losses.
According to CoinDesk, Bitcoin's price sank from $54,800 to $46,294, its lowest point in three weeks. But the price of the flagship crypto steadily rebounded to around $48,500 in a few hours.
Bitcoin is currently trading at $50,852 as at the time of this writing.
Other cryptos also suffered major hits including Ethereum which fell by nearly 10%, Dogecoin by 15%, Litecoin by 14%, and the much touted 'Doge killer', Shiba coin dropping a colossal 33% in the last 24 hours.
In summary
It is widely known that Elon Musk wields a lot of market-moving power when it comes to the crypto space. Any comments or actions from the world's second-richest man or his company, Tesla, affect the prices of crypto offerings including Bitcoin and meme currency, dogecoin.
Read: Elon Musk's 'hustle' remark and other possible reasons why Dogecoin price crashed
On the whole, Tesla's decision to halt Bitcoin payments has dampened investor confidence and limits the crypto's potential of going fully mainstream.
Get the best of Africa's daily tech to your inbox – first thing every morning.
Join the community now!